When I saw this post about a kitchen made from an old TV stand, I knew Mikayla needed one for Christmas.  I looked for months for the perfect stand, but could never find it.  Finally, right before Thanksgiving I stumbled upon the perfect one.  I immediately purchased and drove home to begin plotting how we were going to transform it for her Christmas gift.  By we, I mean how Ben was going to transform it, and I was going to paint it!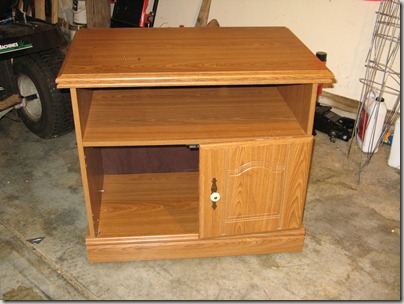 I didn't remember to take a picture before Ben took the first door off, but you can pretty much get the picture of how it looked. 
The first step was to drop the top down a bit so it wasn't so tall.  Then Ben made a hole for a sink.  We got an old faucet from Habitat Restore and used a metal bowl we already had on hand for the sink basin.  Then Ben switched the hardware out so the door on the left opened down like an oven instead of to the side.  He also cut a whole out and put some plexi glass in to make it look like an oven door and added in an old oven handle, also from Habitat Restore.  The final addition was to add a wall in between the cabinet and the oven.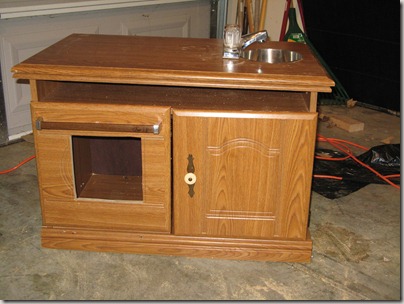 Cabinet before paint and finishing touches.
My job was to paint the cabinet white and make some knobs for the stove.  I got some wooden circles from Hobby Lobby, painted them and added in some numbers.  They were perfect.  We also found some Contact paper that looked like marble, which we added to the sink side of the kitchen unit.  I painted some black circles on the stove side and we were set.  Now all we had to do was fill it with kitchen goodies (courtesy of IKEA mostly) and our kitchen was complete.  We complimented it with the cutest table and chairs I found at Little Lulu's, a consignment shop in Bowling Green.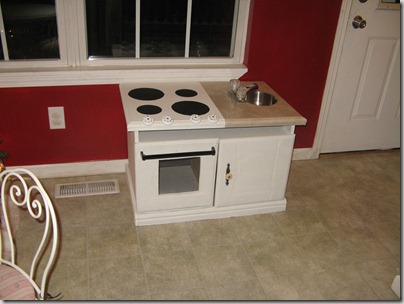 Kitchen before we stocked it with goodies.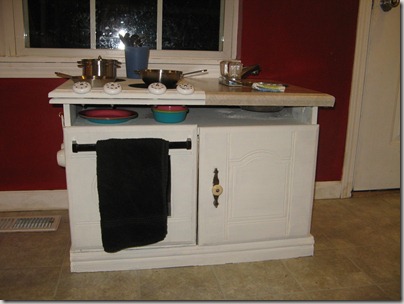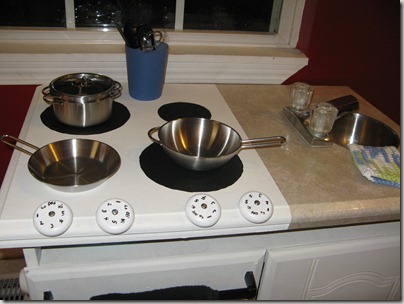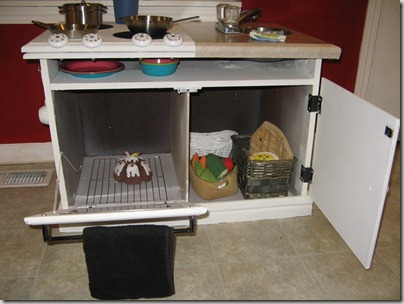 We still want to add a shelf in the oven, but just never got around to it. 
After we got finished we weren't sure where we were going to put it all.  At first we thought the kitchen, but then we thought it would take up too much space.  We found the perfect solution when some friends of ours decided to transform their kids rooms for Christmas.  They were gracious enough to hold onto our bedroom suite for a few years while we live in Africa and it was the perfect timing to make the switch.  Mikayla loves playing in her room now and there feels like a lot more space!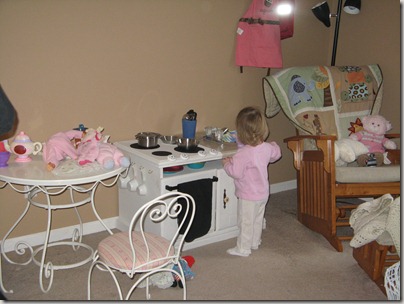 Mikayla's new and improved room with her fun kitchen and table!