For Mikayla's birthday she received a pool from her grandparents and a wagon from her aunts, uncles and cousins. 
In the last few weeks we have began using both.  Mikayla loves to play in the wagon while we are in the garden working.  She climbs in and out, in and out, in and out.  She is even so polite as to shut the door.  Check her out in all her cuteness and please note her "concentration face" she gets from her daddy!  (For some reason this video won't upload, I will try again later!)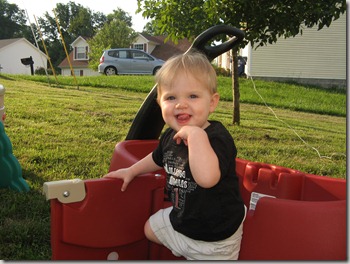 The pool is a different story.  She LOVES playing in the water, but is not a fan of sitting in the pool.  The following pictures and video will show that she enjoys playing in it, but only by poolside.  Still cute in her fun bathing suit.  I also recently made her a water table, but I will post more on that later.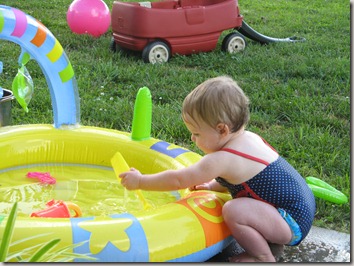 Doesn't she make a cute summer baby?