Mikayla had a fun week filled with Letter E.  We made some crafts, ate some eggs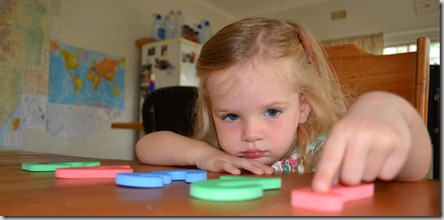 We practiced tracing and identifying our numbers while singing "The Numeral Song" by Dr. Jean.  If you have never heard of Dr. Jean and work with young children at home or in a school setting you should check her out.  She has some great educational songs and even some fun songs to just sing and dance to.  One of our favorites is the "Tooty Ta" song.  I have 2 or 3 of her CD's but would love them all!  Seriously, check her out.  It will be well worth your time!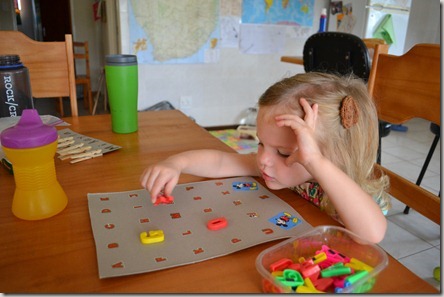 I made a "letter puzzle" game by putting letter stickers on the back of a cereal box.  She then had to match the magnetic letters to the correct sticker letter.  Since they were Mickey stickers we had to sing the "Hot dog" song from Mickey Mouse clubhouse (not sure if this show is shown in the states or just here, but it is a cartoon version) that she loves so much.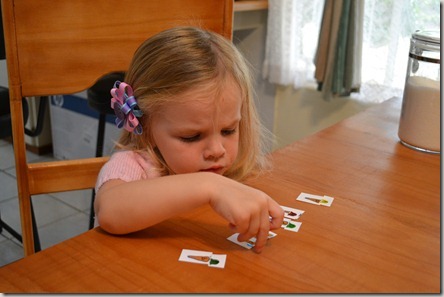 I made an ice cream uppercase/lowercase matching game that she wasn't supposed to find until the letter I, but found this week.  We went ahead and played it using only the letters we had studied to this point.  The ice cream was capital letters and the cones were lowercase letters.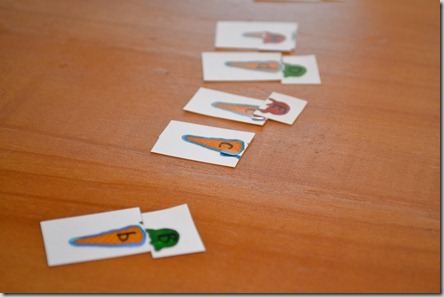 Here is a closer view of the game.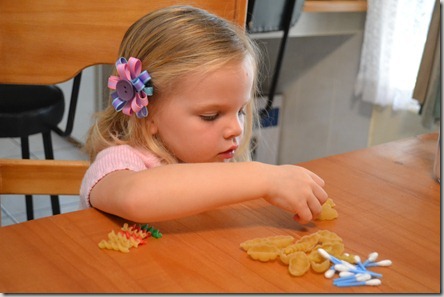 This was a two part game.  Part one she took all the items from a tupperware container and sorted them.  They were three distinct sizes.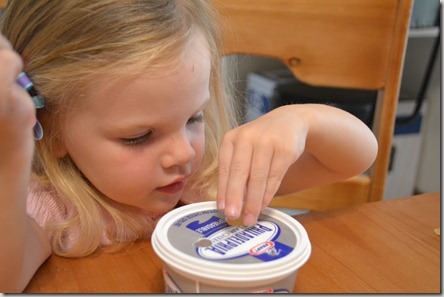 Part 2 was to put the items into the container using the correct hole – small, medium or large.  She spent a good thrity minutes playing this game over and over…I thikn she liked it!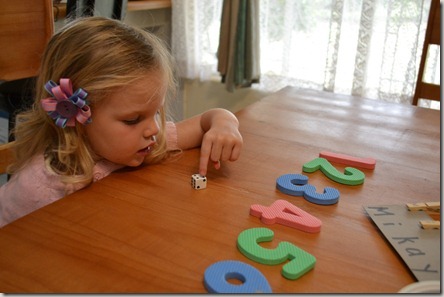 Since she loves playing with dice I incorparted this into several of our games this week.  For this game she rolled the dice, counted the dots and then found the correct number.  Since she isn't great at identifying the numbers yet I would sing our "Numeral Song" and then write it on her chalkboard.  She would then match it up.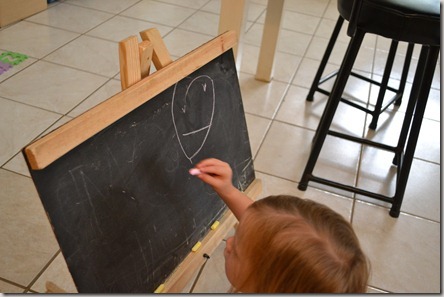 Speaking of chalkboard, we spent some time learning to make smiley faces this week.  She made this one all by herself with me only giving her verbal prompts on what to do.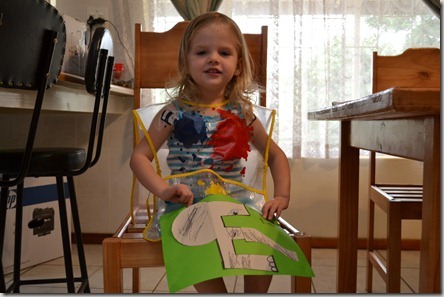 Letter E elephant.  He looks a little crazy, but it works!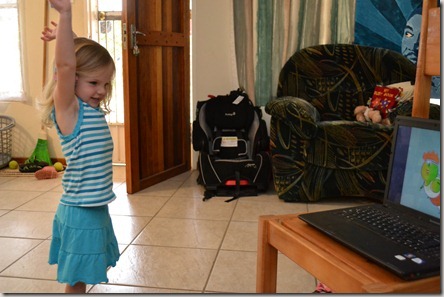 And of course we had to exercise with Elmo via our Elmocize video.  She loves this!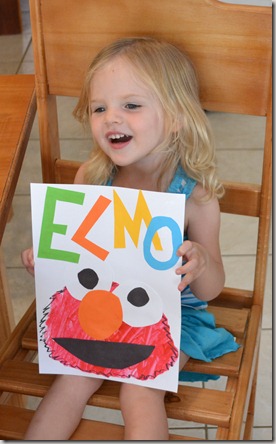 And what E week would be complete without at least one Elmo project (sorry Catherine)!  I was pleased with how this turned out.  I cut out the shape of Elmo's face and Mikayla painted it red.  She did awesome at painting all the white spots.  Then I cut out the eyes, nose, mouth and letters to spell Elmo.  She glued them all on and did surprisingly well with placement.  I only had to help her out a bit!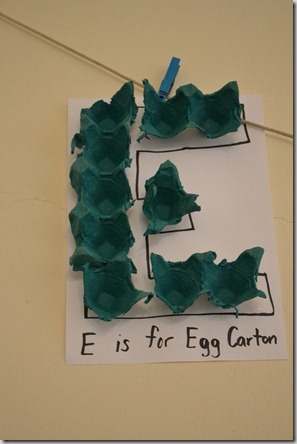 Letter E egg carton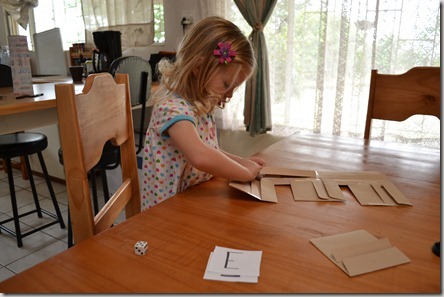 I made a large letter E out of envelopes.  Mikayla then rolled her dice and put that many E's in her E envelope.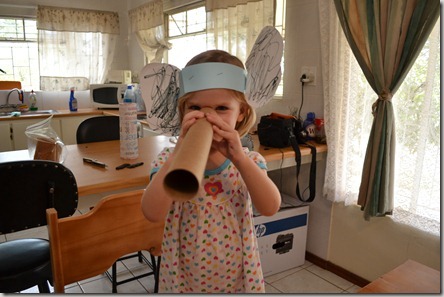 We dressed up like an elephant and sang "The Elephant Song" by Dr. Jean.  Here is the video – she got a little camera shy!