The kids are all getting along well for the most part.  The other day I walked in to see the three of them playing on Mikayla's bed (which at the moment happens to be a mattress on the floor in our room) with her baby dolls and special pig from her friend Lylah (which she refers to as present).  It was so precious.  They do have their occasional squabbles as any "siblings" would.  Nosipho is quick to grab things from her brother and then crawl off leaving him quite devastated.  Mikayla has done her far share of "picking" at the twins as well. 
Speaking of Mikayla, she has gotten very good at taking messages to people around our house.  Occasionally I will need to tell Ben something or borrow something from the sisters and so I will either tell Mikayla or write a note and send her to the office or house to relay the message.  She will march right along (usually in her rain boots because they are her shoes of choice) and walk up to the door and say "I'm here"!  Eventually she makes it back to the house very proud of herself.  Little Miss Independent!
We have become a family addicted to popcorn.  We have it several times a week!  Ben is perfecting his popcorn varieties.  He has made traditional popcorn, a spicy buttery mix, a kettle corn and a spicy kettle corn so far.  He even joked the other night about making a Popcorn book with recipes for all kinds of different homemade popcorns.  I told him to go for it!  Of course, there is no exact measurements when he is making it so it might be hard to complete.
Ben was gone for three days this week and we all survived!  He worked long days working on a grant and I hung out with the kids back at home.  Another volunteer, Katie, was around on Tuesday and Thursday so she helped out when she could.  Wednesday I was on my own for the whole day and besides one little incident we all did great.  The twins did not nap good on Wednesday and when I walked in to finally get them out of the bed I saw why.  Somehow Simo's diaper had come off (I am thinking Nosipho had something to do with it since it was laying right next to her) and he had pooped.  He managed to get poop all over him, the blankets and the crib.  Miraculously Nosipho we clean as a whistle.  Needless to say we took baths early and due to the lack of naps we had an early bedtime.  We started letting them cry it out about a week ago and it is working awesome.  Now they only cry for a minute or two and then are sound asleep.  I hope this trend continues for them at the hostel because I know that is one thing they struggled with there.
When Ben got home he had two surprises for us, one for me and one for Mikayla.  Mikayla received her first Swaziland mail, which was actually our first mail at all.  She got a special collage picture from her dear friend Lylah back home (thanks again guys).  She looks at it often and had even started showing Lylah around the house/yard.  We were outside the other day and she grabbed Lylah's hand and started to walk her around and show her the mango trees, telling her all about them.  So sweet!  Just for reference the mail only took about two weeks to arrive.  I am not sure on packages though.  My special surprise was an electric mixer!  Woo hoo.  I think I jumped and squealed when I saw it in Ben's bag.  Who knew one could get so excited for a mixer.  But I will tell you that it will make my baking much easier and my arm won't be as tired from stirring!  It is no Kitchen Aid, but it will work perfectly!
Twin update – Nosipho is well on her way to walking.  She will now stand for minutes at a time without holding onto anything.  She hasn't braved that first step yet, but is very close.  Simo is still struggling to get his body to maneuver in the right direction.  When you try to put him in the crawling position his legs won't cooperate, almost like there is something wrong.  He has an appointment on Tuesday to see a physical therapist in town.  Hopefully nothing is wrong and the PT can at least give us some exercises to do to strengthen his leg muscles.  They are chatting up a storm and are making clear sounds like "da" and "ma".  They aren't saying any real words yet, but do love to scream and bang pots from Mikayla's kitchen.  It can get really loud in our house sometimes with the banging and screaming bouncing off the concrete walls and tile floors!
I made a delicious made from scratch chocolate cake and icing this week.  I am thinking that I am going to start gaining weight with all the goodies I am making!  I plan on trying some sort of bread this week.  Any suggestions?  I also made some chicken and dumplings that turned out pretty good.  I had to use Mikayla's play rolling pin from Ikea to roll out the dough which was interesting!  Guess I need to locate a rolling pin, huh?
On Sunday I flooded the house, literally!  I was trying to multi-task and wash clothes while mopping the floor.  The way the washing machine is set up is that it drains into the basin sitting next to it.  I completely forget this when I filled the basin up with water and cleaner to mop the floor.  While mopping the kitchen I heard a large splashing sound and immediately ran into the laundry room to fin water quickly spilling out of the basin.  We had water everywhere and it took us a bit of time to get straightened out.  The kids then proceeded to break two bowls while playing.  Needless to say, Sunday was a bit of a destructive day for the Kickert household.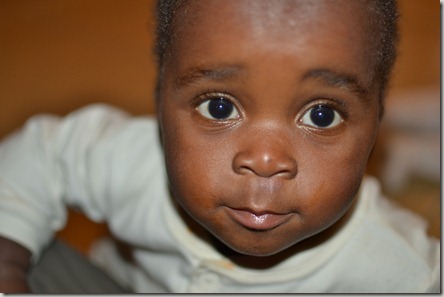 Nosipho likes to crawl right up to you when you get the camera out.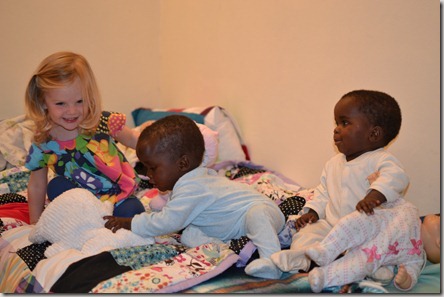 Playing with babies on Mikayla's bed.