How far along? I am 36.5 weeks.
Total weight gain/loss? Still gaining weight, but it is slowing down!
Stretch marks? Still none, although I am not sure how much more my belly can stretch out!
Best Moment this week? We have started getting in some of the pennants we asked close friends and family to create for the kids room.  Once we get them all in I will make into a banner to hang up!  Here are a couple of them that we have received!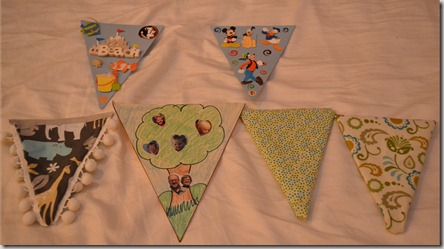 Movement?  The movement is starting to slow down some, although baby still moves like crazy at different times during the day.
Food Cravings:  No major cravings, just food in general!  I feel like I eat all day!  I have also been eating a bowl of cereal just before bed almost every night.
Gender? We had another ultrasound at our last appointment and we are happy to say that Baby Kickert was not shy this time around!  According to what we saw this time we are definitely having a boy!  Although if I am being honest, I am not holding my breath and waiting until delivery to have a definitive answer!
Labor Signs?  The Braxton Hicks contractions are apparent everyday, but nothing to be concerned about yet.
Belly Button in or Out?  I would say I am definitely an outie!  Mikayla actually looked at my belly button the other day and said there wasn't a hole there anymore!
What I miss.   Wearing my wedding band.  I had to remove my rings this past week due to swelling.  The day starts off okay, but by afternoon my fingers are so swollen I can hardly remove them.  I figure better safe than sorry so I have removed them for the time being.
What I am looking forward to.  I think like most women at this point in pregnancy, I am most looking forward to holding our baby for the first time (and not being so huge anymore!).
Weekly wisdom:  Even though I am tired at the end of the day, I still have to reserve energy to be mommy to Mikayla.  This is tough, but she shouldn't suffer just because I am pregnant with another child!
Milestones:  The only milestone I can think of is that my maternity clothes are starting to feel a little snug!  To me that is how I can tell the end is getting closer!
Here are two belly shots for comparison.  This is me at 36 weeks for both pregnancies.  Picture one is the current baby (I just got out of the shower, so please ignore the wet hair style) and picture two is with Mikayla.