This week was an interesting one…it was our first week of three without Ben around.  He flew out on Monday for the US and won't be back until the 24th.  We had an interesting time getting him on his flight and had to change some of our plans at the last minute!
The weather last week was supposed to get a little crazy.  There was a tropical cyclone (hurricane) that was off the coast of Mozambique and predictions were that the winds and rain were going to hit Swaziland on Sunday and Monday and hit us hard.  They were calling it the worst storm in 30 years!  With this prediction we felt confident that Ben's original flight out of Matsapha here in Swaziland would be cancelled due to high winds and rain.  Since we didn't want to risk him missing his first flight we decided to drive to Johannesburg (where his second flight would leave from) on Sunday and spend the night so he could catch his flight on Monday.
We packed up the truck early on Sunday and made the trek south (about a 6-7 hour drive).  We enlisted the help of Joe since Ben was sick and I wasn't thrilled about driving in Jo-burg.  So thankful he tagged along!  When we got there on Sunday Ben, Mikayla and I hug out at the guesthouse while Joe went and did some shopping.  That evening we went to great restaurant for dinner.  It was a Mozambiquan, Portuguese, Brazilian combination restaurant.  And besides Mikayla acting like a rotten toddler, we had a great dinner.  On Monday, we left Ben at the guesthouse (they ran a shuttle to the airport) and hit up one of the many malls in Jo-burg to do a little shopping.  I wasn't in the clothes shopping mood, but did manage to snag some tortilla chips, pretzels and blueberries.  Ah…the little things in life that make you so happy!  We made it back safe and sound to Swaziland about 8:00 that evening and all crashed quickly!  Turns out the storm turned at the last minute and we didn't even get any rain!  Oh well, better safe than sorry I suppose.  Plus I got some tortilla chips out of the deal so all is well!
I feel like we have survived the first week pretty well without Ben.  Mikayla has been really good and besides getting up or calling for me 10 times each night all has been well!  We did have one incident this week when Mikayla pooped in the shower.  When I got onto her she said she only did it because Daisy told her too.  This does not bode well for peer pressure in the future if she is taking commands from a figurine!
We didn't do much baking this week, but we did manage to try our hand at some homemade Poptart Minis.  They don't really taste like Poptarts, but they were delicious.  Basically it is just a pie crust that you fill with jam (or in our case Nutella) and then bake until golden brown.  You can see the full recipe here.  Mikayla had fun rolling out the dough and forming her own Poptarts.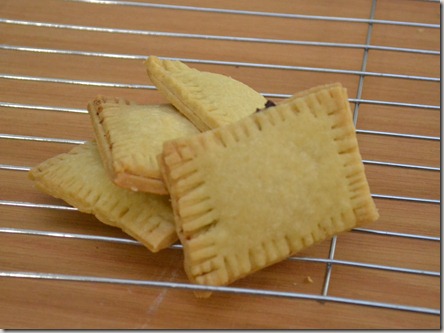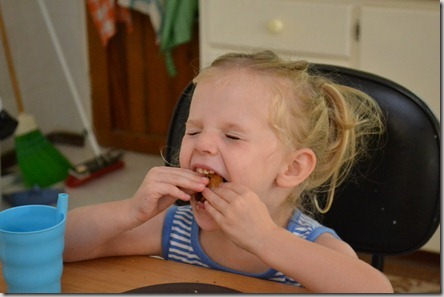 We even had some fun this week playing in a box!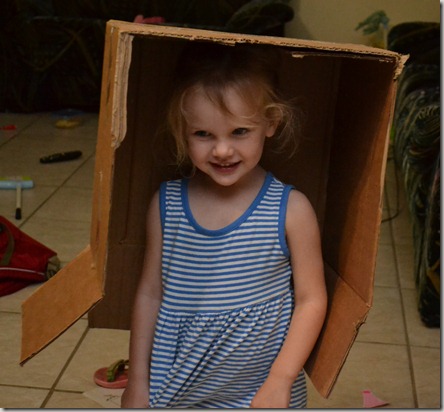 First it was a hat…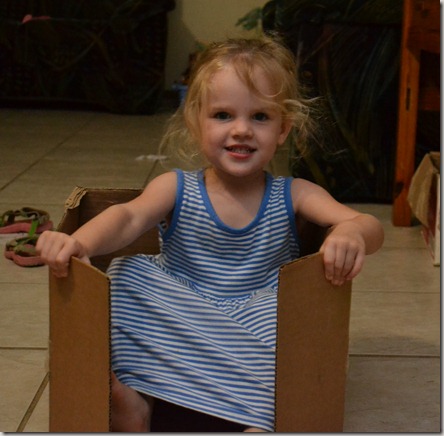 Then a car and eventually a bed!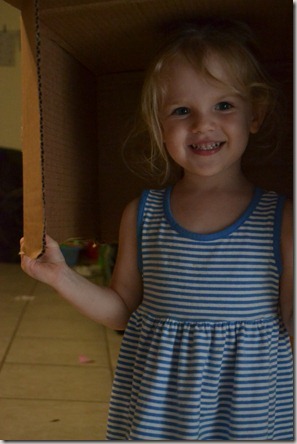 Ben has also been able to post several videos on his blog.  You can check out the link here if you are interested in seeing them.