Yesterday, July 4, 2013, we welcomed our son into the world.  He was born at 12:45 Central African Time at Mkhiwa Clinic in Manzini, Swaziland.  He is perfect and all of us are absolutely in love, especially Mikayla!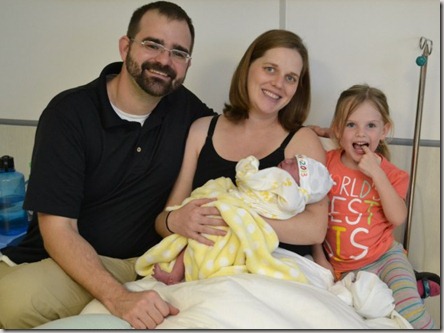 I wanted to take the time to write out his birth story while it was fresh on my mind.  I waited almost 16 months to write down Mikayla's and forgot too many details.  The story below might be a little too much information for some folks out there so consider this your warning!
About 4:00am I was woken up by a POP and then a small trickle of water.  At first I thought I had peed the bed and then my mind got to wondering if it could be the amniotic fluids starting to leak.  I tried to lay back down, but kept wondering if it was indeed my water breaking.  I wasn't having any real strong contractions at this point.  About 5:00am I woke up Ben.  His sat up quickly and asked "Is it time?"  I didn't know the answer, but figured he should be awake and know what was going on.  I decided to take a shower since I wasn't sleeping.  We already had a doctors appointment scheduled in town, so we figured we could just go in early to check.  When I got out of the shower (around 5:30am) there was a huge gush of water that was in fact my water breaking.  Even though I was only having a few small contractions we decided to finish packing up our stuff and head to the hospital.  (Once your water breaks  you have a 24-48 hour window to give birth before concerns about infection start to arise and you have to consider interventions).  We ended up leaving our house about 6:45.  I will be honest I got a little teary as we were waving goodbye to Mikayla (who was staying back at home with Joe).  It sounds ridiculous I know!!  Thankfully the road out of the mission, is already half paved – I was not looking forward to bumping all the way in.  The asphalt sped up the trip and we only had to stop once so I could get through a contraction.
We rolled into Manzini about 8:00 and stopped at the grocery for some bananas thinking they would be good energy food to munch on throughout labor.  We got to the hospital around 8:30 and started the process of checking in.  Ben actually had to leave at this point to go find an ATM to pay the bill up front! (The total bill for a normal delivery is one of the highest in Swaziland, and still only amounted to about $850).  It wasn't until 9:30 that I had my first internal exam of the pregnancy.  They don't actually check for dilation and effacement at any of the prenatal checkups.  To my dismay I was only 1cm dilated and 50% effaced and the contractions were weak and widely spaced.  At this point I was really concerned about the labor going slow and not progressing fast enough to make in the 24 hour window.  Little did I know that Max had other plans for us!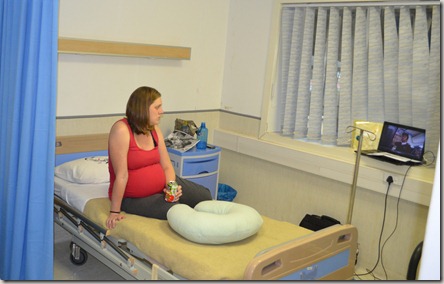 Hanging out in the ward watching Big Bang Theory waiting for
labor to fully begin!
During the first exam they found Maxwell's heart rate was 170-180, which is really high and caused some alarm. They also wanted me to hook up to an IV, but I asked to avoid that so I could move around more during the labor process.  The midwife had no problem with that decision as long as I stayed hydrated and wasn't throwing up.  I am very glad we made that decision.
After the internal exam, I was moved to a regular room to progress through labor.  Once we got settled in they checked the fetal heart rate again and it had returned to normal, but the doctor asked to hook me up to a fetal heart monitor for to keep an eye on the situation.  I had about thirty minutes to move around, but couldn't find a comfortable position.  At this point contractions were between 7 and 15 minutes apart and with varying intensity.
The midwife came back at about 10:00, checked the heart rate again (still normal) and decided to go ahead and hook up the fetal monitor.  I had the monitor on for about 40 minutes and towards the end of the time, the contractions really started picking up and I was having a hard time finding a comfortable spot.  Since things were normal with the baby, I was able to remove the fetal monitor at that point and move around.  I think I tried just about every position I had read about in the books and literature and none of them were comfortable.  I had a great partner in Ben and he did a fantastic job of coaching me throughout.  He would help me get my breathing back on track when I started to panic during contractions.  And he even let me bite him, which I still feel really bad about, when they got really strong!
Around 12:00, the midwife came back in to do another exam.  I remember having a pretty strong contraction when she got there so she had to wait a few minutes.  She started the exam and it was so painful because the contractions kept coming.  To all of our surprise I had quickly moved to 6cm dilated and fully effaced.  She said that we needed to move to the delivery room.  This was really difficult for me because I was in so much physical pain I literally couldn't make myself move.  Ben came to the rescue and somehow got me moved.  I remember him saying that is we didn't go ahead and move I would have to delivery outside the maternity ward.  I wasn't aware of it at the time, but he certainly was, I was going through transition and entering the last stage of labor.  Somehow I was able to make it into a wheel chair and across the hall into the delivery room.  I climbed up onto the bed in the room and the nurse left to get me a gown to change into. 
I had very strong contractions for about 10 minutes – so strong that I couldn't help but scream (and cuss) in pain.  Out of nowhere I got the overwhelming urge to push and knew things had  progressed very quickly.  At this point there was no nurse in the room.  I told Ben to go get someone, but every time he tried to go, I pulled him back because I couldn't let him leave my side.  Thankfully, the nurse heard the ordeal and quickly came in.  She was shocked to see we were already ready to deliver.  I told her I could feel the baby coming and she got pretty worried as she rushed to scrub in and get her gloves on.   I remember a lot of screaming and the sensation of the "burning ring of fire" the books all talked about.  By the time the midwife was ready, the head was already crowning.  I was in so much pain I could not move, so Ben and another nurse had to roll me over, prop me up and hold my legs for me.  Pretty sure this was the point where I took a few chucks out of Ben's arm.  I am very thankful things went quickly because things were so intense, I don't know how much more I could have taken.
Because of the speed at which things progressed, the doctor did not get there until after things were well on their way.  He supervised and allowed the midwife and nurses to take care of the actual delivery.  Once we reached this stage, it only took about 3-4 big pushes to get Maxwell out.  A few minutes later, lots of screaming,  and some claw marks on Ben's arm, Maxwell entered the world.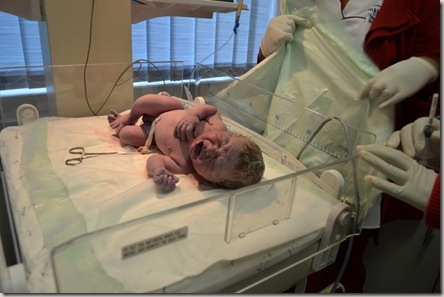 Welcome to world Maxwell Simo Kickert.  He was 8lbs 8oz, 20 inches long, and his head measured 36cm. 
I had a small tear that needed repaired so the doctor scrubbed in and took care of that while Max was being looked over.  He was a bit purple and blue at birth, but quickly gained his color and was in great shape.  Ben helped take care of him while I got cleaned up.  We weren't able to do skin-to-skin like we had with Mikayla, but because of the situation, we were much more connected to the actual process of birth.
All in all it was a fast delivery and I am so thankful for that.  I don't handle pain very well and with no access to an epidural here I was really concerned about it but thankfully was able to make it through with no interventions.  I never could have done it without the loving support and guidance of Ben.  I took a lot of my pain out on him and he handled it like a champ!  I am so glad we are a team and were able to be together on the delivery of our son, Maxwell Simo Kickert!  Our world will never be the same and we are excited about being a family of four!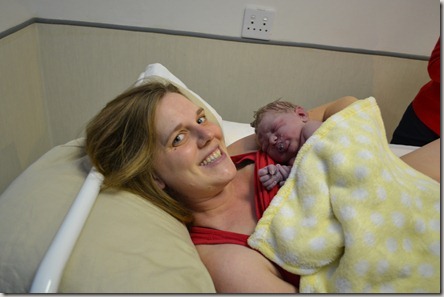 First mommy and son picture.  He was cracking me up with all the spit bubble action!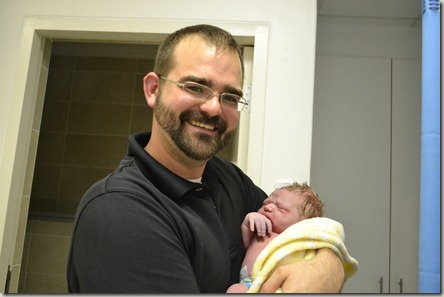 Daddy and his son!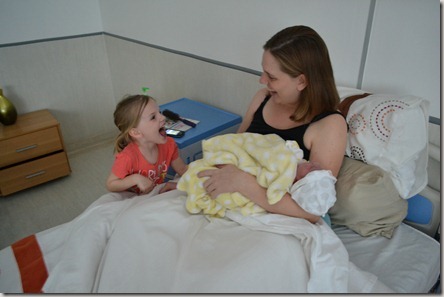 Mikayla meets Max!  She was so excited.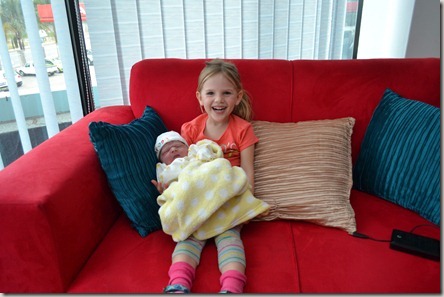 Already such a good big sister!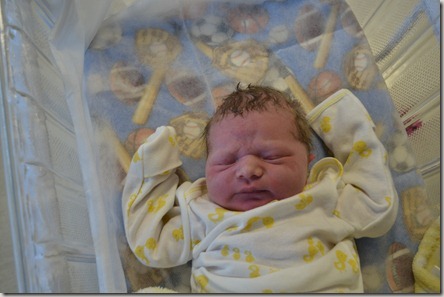 Touchdown!