**Post originally written on Tuesday, July 26, 2011, but published later.
Today Mikayla and I had a little danced party.  We turned on one of my all time favorite children's musicians, Dr. Jean, and began to dance and sing.  As we sung I couldn't help but think about our dear friends Lara and Lylah back in the states.  Thinking that they may too be dancing today during their learning time – times during the day to "teach" Lylah basics of learning.  Here are some snapshots of the four of us the day before we set out on our adventure.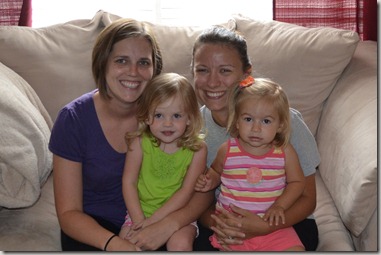 The four of us!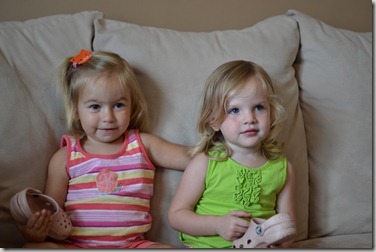 The girls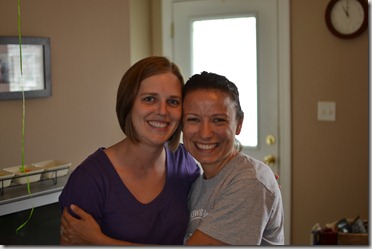 The adults
I am hoping to start up my own "Toddler School" with Mikayla very soon.  I just  need to get my hands on a few essentials like construction paper and glue first!  I decided today that our first letter will be M for Mikayla.  We will do something with monkeys, myself, maps and who knows what else I come up with.  We will also focus on the numbers 1-5 in recognition and value, playing some very basic number games.  Nothing too structured, but she is so much like a sponge right now I hate to pass up the opportunity to teach her these basics!  From the letter M I think we will move on to A and start from the beginning.  I am not sure how long we will "study" each letter, maybe a week, maybe more or maybe less.  I am just going to have some activities in mind and go from there. 
Mikayla has been asking about her kitchen since we got here, so yesterday I took out an empty laundry basket and made her a "stove".  Then gathered her food and kitchenware to make her a makeshift kitchen. I am hoping to get my hands on some cardboard boxes soon to make a real kitchen, but for now she seems pretty content with what she has!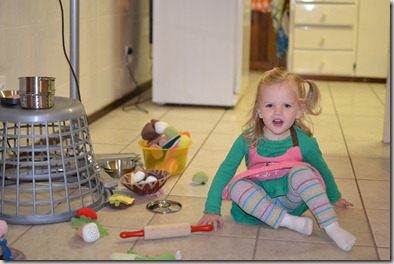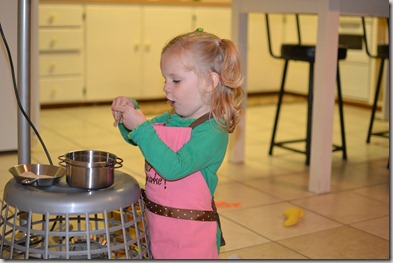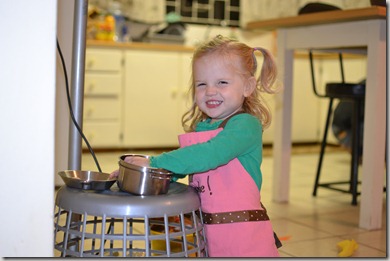 The first couple of nights we were here we ate pizza we had picked up in town and chicken and potato salad the sisters had arranged for us to have waiting for us when we arrived.  Sunday we ventured into town for the first time to pick up the essentials from the grocery store.  The whole time my head was spinning with conversions and trying to figure out the various ingredients.  After about an hour or so of this my head was spinning and I was ready to hit the road back home.  After a slight panic when I thought our fridge was broken (turns out the switch on the back had been turned off) and putting our groceries away I set out to make our first official dinner in our new home.  We had skillet pork chops with sautéed mushrooms and onions, steamed broccoli and something similar to macaroni and cheese.  I found a powdered cheese sauce at the store that I mixed with noodles.  It definitely wasn't homemade mac and cheese, but it was edible!  It wasn't a bad meal and similar to something we would have in the states.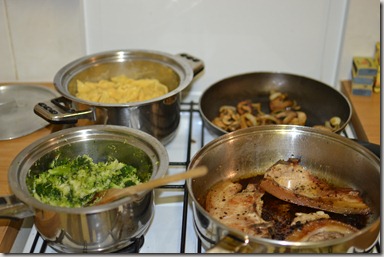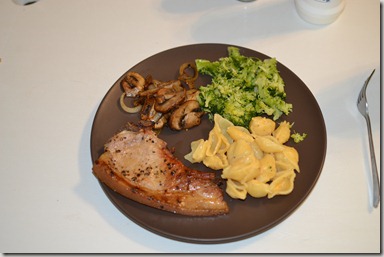 After putting Mikayla to bed I decided to relieve some stress and try my hand at making chocolate chip cookies.  This was a challenge!  First of all, the oven is a gas oven and has no markings to indicate how warm it was.  We had to use our best judgment and finally mastered it after a few batches.  Second of all, the ingredients were slightly different than what I was used to in the states.  I only had baking powder, not soda like I am used to.  I also had a bar of milk chocolate instead of chips (which is similar to how I used to make them with my bars of fair trade chocolate).  The brown sugar was packed, but granules like in white sugar.  There was no all purpose flour at the store, only cake flour, bread flour, and self-rising flour.  I went with cake flour (since I like cakey cookies).  When we started baking the cookies they were burning on the bottom, but raw on top.  After some modifications to the temperature of the oven and sliding the cookie sheet on top of a broiler pan (thanks hubby for the awesome idea and help), we were able to come up with perfect cookies!  They took longer to bake than usual, but we are figuring things out.  Everyone in the office liked them and we even had some westerners over for dinner last night and they ate them up!  So I suppose they tasted okay.  Sorry, but I didn't think to snap pictures of any of the good ones and only have the extra crisp ones left.
I almost forgot, last night it started raining and has pretty much rained non-stop the whole day.  The temperature has dropped significantly.  All of you suffering with the heat in the states should be jealous because today I wore my long pants, sweatshirt, wool socks and was still cold!  I know I will be jealous of you guys when come December we are burning up and you have all the cold, but for now I will let the jealousy stay on your side!
I will end this long post with a picture of a frog Ben spotted today.  It is white in color with small spots.  He was just hanging out on our windowsill after lunch.