If you caught last week's Toddler School post you will know that we studied the letter W and focused on winter.  I feel that it is important to continue to teach Mikayla about the seasons even if we don't really have big differences.  Since it is winter back in the states and my friends have been posting all kinds of fun activities they have been doing with their kiddos, I couldn't pass up the chance to jump in on the fun.  On Sunday we (by we I really mean me, but Ben was a trooper) decided to make it a winter fun day.
We began with a breakfast of snowman pancakes and bacon.  Mikayla had a blast using the sprinkles my grandma sent her for Christmas to decorate her snowman.  And if you look really closely, you will be able to see that she made two eyes and a mouth all by herself!  She had a blast and proceeded to make and eat three snowmen pancakes when she usually only eats one!  (Apology for the lack of shirt, but it is hot here so she only sleeps in underwear most nights.  We hadn't gotten dressed yet!)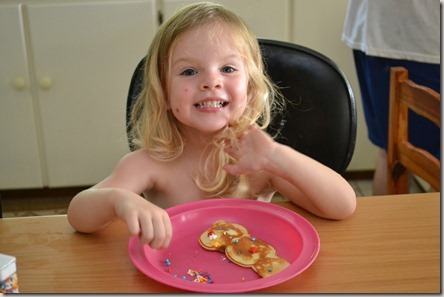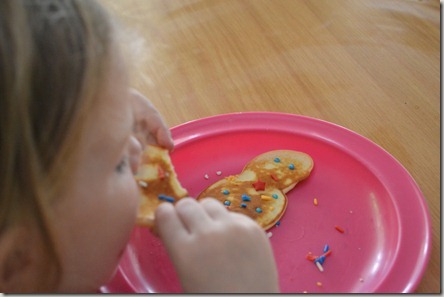 We laid low for the rest of the morning and then while she was napping I hung up snowflakes all around the hallway and living room.  I have been secretly making these when Mikayla is cutting in her cutting box.  When Mikayla woke up we told her there was a surprise, but that it had gotten really cold in the house so she needed to put on a scarf and hat.  Her reaction was priceless.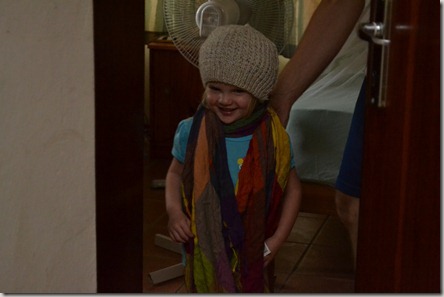 After she explored the "snow" we had a family snowball fight using marshmallows.  She thought it was hilarious to throw snow at mommy and daddy.  After our snowball fight, we built a couple of snow forts by stacking the marshmallows.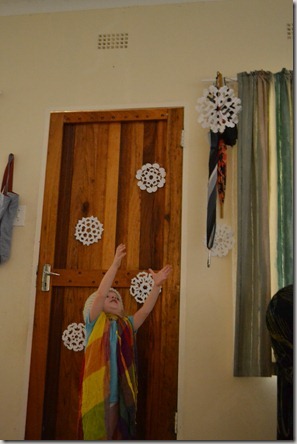 Trying to catch the snowflake.  She actually got a little frustrated that they weren't falling down for her.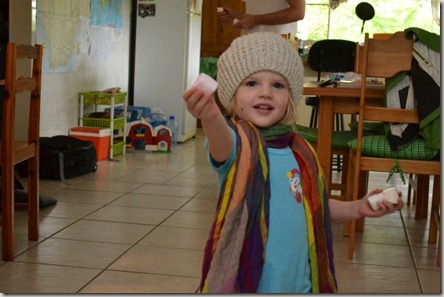 It took her a few minutes to catch on to the snowball fight, but in the end she understood to throw them and not hand them to you!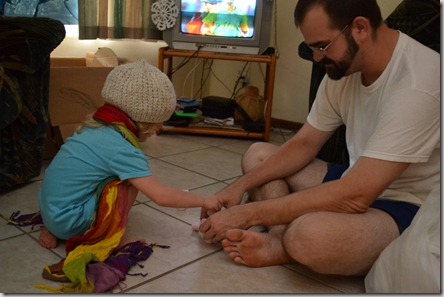 Building a snow fort with daddy.
When we were tired of throwing snow, we moved on to building a snowman.  We took empty plastic grocery bags and stuffed them with other grocery bags to complete our snowman.  She lost interest pretty quick, so we didn't actually decorate him. However, she was able to make the connection that she was dressed like her snowman we made last week all on her own.  She just looked up at her footprint snowman and said that she looked like him.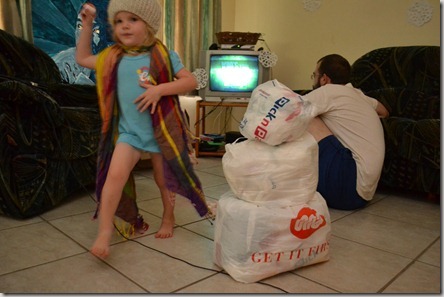 Our wimpy snowman – it is no Grandma and Grandpa Kickert snowman!
After all the snowball fun, we made some snow to play in.  We mixed 4 cups of flour with 1/2 cup of baby oil and mixed with our hands.  When we were finished we had a mixture that was a snowy consistency and could be molded fairly easily into snowballs.  Mikayla had fun using her Goofy and Donald Duck characters in the snow!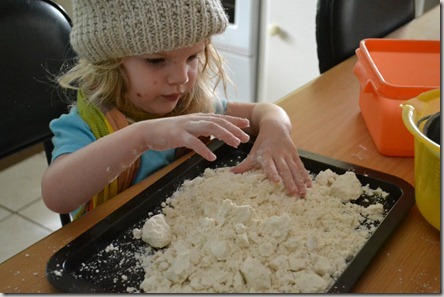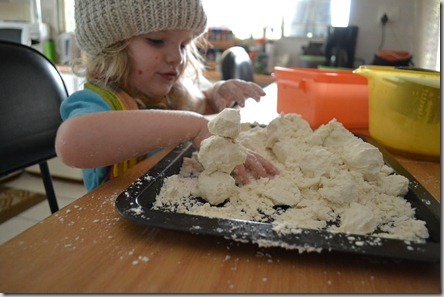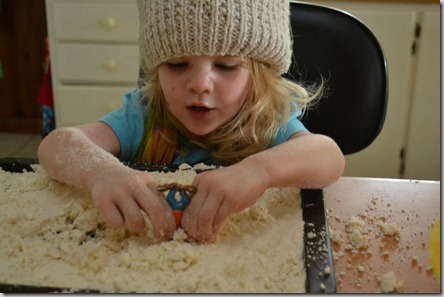 Our final winter activity for the day was driving through a snowy scene on our Wii Mario Cart game.  She was not the best driver, but she still had fun!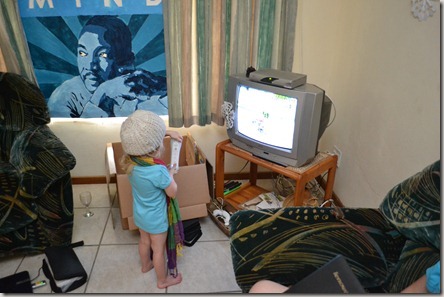 We had a fun winter day, even if it was 90 degrees outside!  She actually kept saying, "I am going to go play in winter now".  So sweet!