One of my students at school always has the cutest bows and hair clips.  She is not overly girly, so her clips are pretty down to earth.  Right up my alley!  She even made MLK a few of her own (which Ben decided to put in her hair all at one time)!
  After careful inspection (and a few conversations) with the mom, and some encouragement from a fellow teacher (who also braved the world of clip making) I decided to give clip making a try.  It might look intimidating, but it is actually quite simple.  After making my first clip I vowed to never again by a clip I could make.  Here are what my first few looked like.  Nothing too hard, simple ribbon glued on a clip with a button or two for some added glam!
This was fun for awhile, but then I decided I wanted to elaborate some.  I got some flower petals and put them together with brads to make some bows.  I don't have pictures, but they look similar to the clips the parent made for MLK (pictured above).  After making these clips for awhile, scouring multiple Etsy sites for ideas, and a quick sewing session with my dear friend Dacia I decided to venture into the world of felt.  All you ladies (or gentlemen) out there toying with the idea of making felt creations I encourage you to do so.  Once you get the blanket stitch down it is a piece of cake!  Here are some of my favorite creations thus far.
My team teacher and I have decided to team up and host a table at a Spring Craft Bazaar hosted by our school (if anyone is interested tables are $25 and you get to keep all the money you make).  Hopefully these little clippies will make us some money!  Oh, and just for fun, I have coined my clip "shop", Sugar Mamma's Shop.  It is not a real shop anywhere, but I would love to sell some clips if you know anyone that might be interested!
I have made some other crafts lately, but I will save that for a later post.  I have also been busy playing in all our fun snow with this little bundle of joy (and her daddy and Shiloh too)!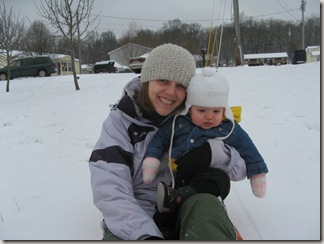 Tags: crafts, Etsy, hair clips, Mikayla, snow