On Sunday we headed back out to the bush (check out Ben's post for details on last week's bush walk) to play some disc golf.  I know what you are thinking, Africa has disc golf??  Not really, but we managed to create a few holes of our own.  We played to fence posts, soccer goals, trees, pretty much anything that was off in the distance with a few obstacles in between.  It wasn't the same as playing at Keriakes with our friends in BG, but it was pretty fun.  Mikayla even threw a couple of disc!
I finally convinced Ben to hang Mikayla's art wall this past weekend.  Back in BG she had a homemade art wreath, but due to space limitations it got left behind.  I am pleased with what we have though and now we are able to display all the fun projects she does at school!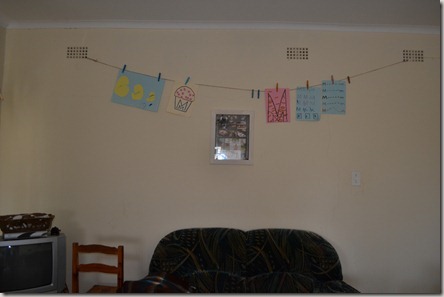 Before we left for Swaziland I saw homemade bowling sets floating around the Internet and made a mental note that I wanted to make one for Mikayla.  They are super simple, just some empty two liter bottles and ball.  Sure you can jazz them up, but I am not that jazzy of a person, so we just left them plain.  I have been collecting empty bottles for a few weeks now and finally had enough to resemble a set of bowling pins.  Last night she was getting restless so we pulled out the few pins we had and started bowling.  She loved it!  Please note her concentration and determination in each picture!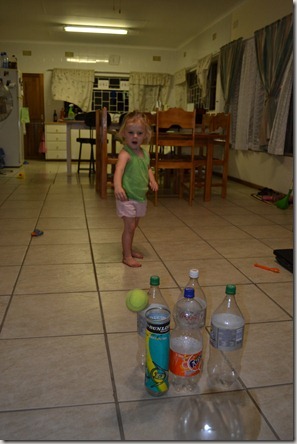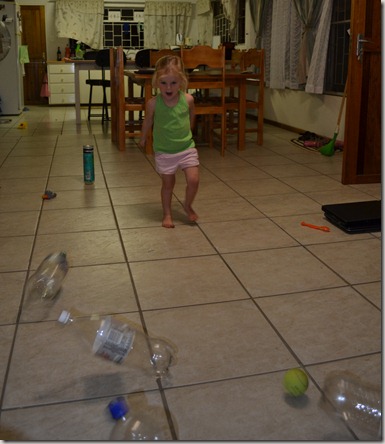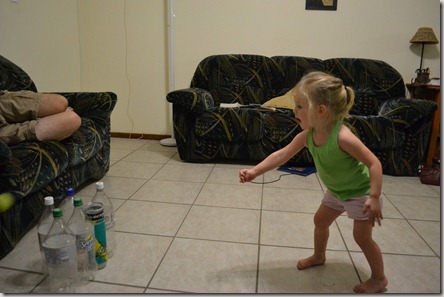 We also found and set up a mosquito net for Mikayla's room.  The mosquitos are already out in full force, just ask Ben who got almost 20 bites in one night!  She is very excited about her fort/tent she gets to sleep in each night.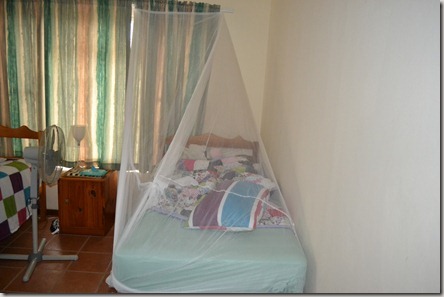 Mikayla has been really into asking "WHY?" lately, for everything!  Don't get me wrong, I love that my daughter is inquisitive, but the constant "whys" are wearing me out!  Her "why's" can go on forever it seems like.  Is this an all toddler thing or just my daughter??
Can anybody guess what these are?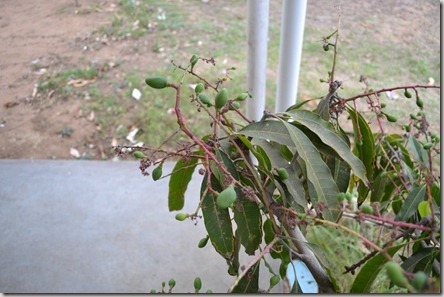 They are starting to form in the trees by our house.  If you guessed mangos you are absolutely correct!
Attention Kickert family:  We played ten thousand as a family the other night and you would be happy to know that Mikayla really beat up on Ben and I.  She immediately rolled 650 and each round made good choices in when to roll or stay.  Quite the competition!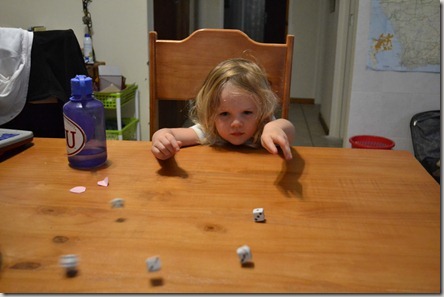 Can I just say that I am loving having access to Food Network?  This is the first time in my adult life that my home has had it and I am addicted!  I am pretty sure it is the only channel I have watched this week.  Who knew it would take moving to Africa to get it?  (Disclaimer – I only turn on the TV at night after Mikayla has gone to bed so please don't think I am watching Food Network all day everyday!)