This was our second week of the Letter of the Week curriculum.  It is still going really well.  Although I will admit that some of the themes are a little strange.  Like in two weeks the theme is eyes…I think we might be switching that one up a little!  Here is our learning poster for the week: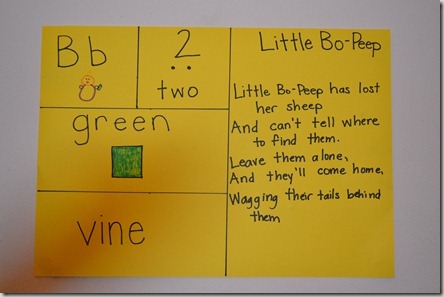 Letter – Bb, Number – 2, Color – green, Theme – jungle, Vocabulary Word – vine, and Nursery Rhyme – Little Bo Peep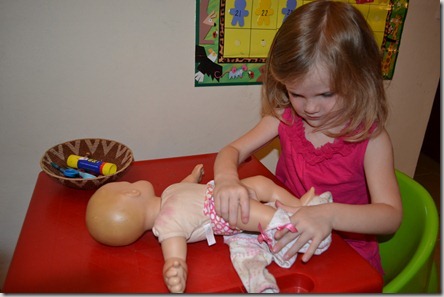 We practiced dressing her baby doll for a practical life activity.  She still gets very discouraged if she can't do something right the first time, but we are working on gaining confidence and independence!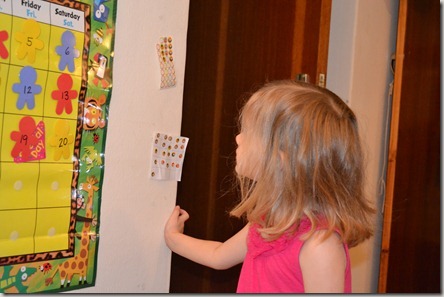 I started implementing a sticker chart last week to help with her independently completing activities.  She is always wanting me to do some part of the activity for her.  For each activity she completes on her own (for the most part), she earns a sticker.  When she completes a row of five activities she gets a piece of candy.  If she fills up her chart she gets a sucker.  So far it is working out well.  Although, if she doesn't earn a sticker then she tends to give up for the day!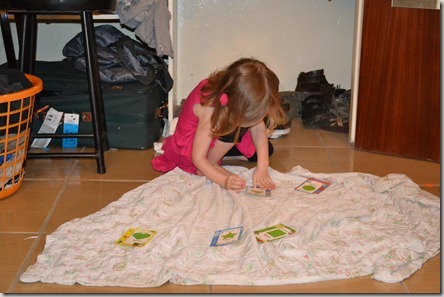 Shape race.  I laid out green shapes on her desk and then would call out a shape for her to race and get and place on the blanket.  She would choose which action she wanted to get from place to place (i.e. run, hop, skip).  She did so good with this!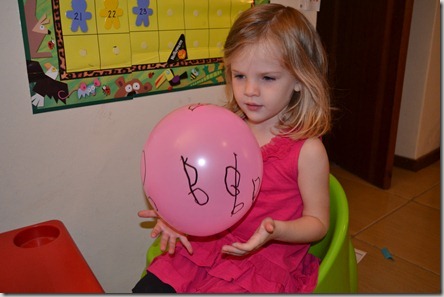 We practiced writing the letter B all over a balloon.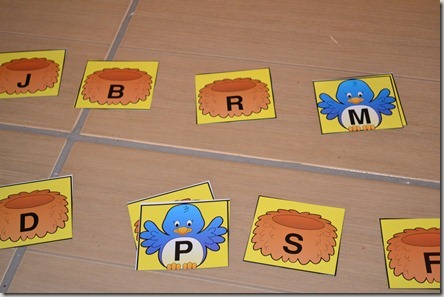 Bird and nest letter match – she matched capital letter to capital letter.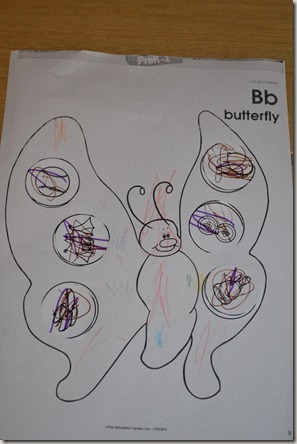 I gave her a sheet with different pictures on it, some starting with B and others not.  She had ot choose the B objects and color them.  Then we cut them out and glued onto her butterfly.  I was really impressed with how she was able to determine the correct sound the words began with.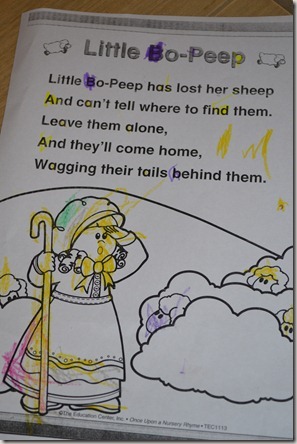 On this worksheet with her nursery rhyme she colored to B's with a purple marker and the A's with a yellow one.  This required a little assistance and we had to go line by line, but she did great!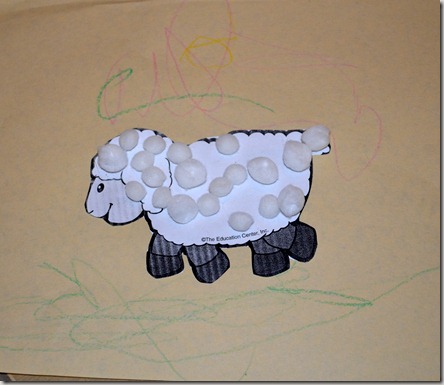 She glued white pom poms onto a cut out of a sheep.  Then we talked about what you would see around the sheep.  She said she would see green grass, a red sky and a yellow sun.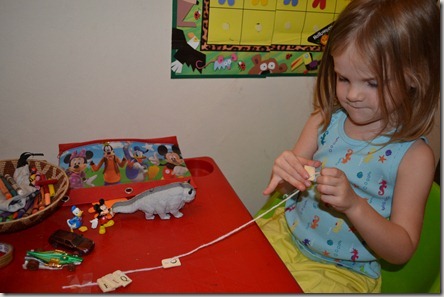 She practiced stringing letter beads onto a piece of string. As she would string the letters she would say their names and sometimes their sounds.  (Helpful tip – place a piece of string on the end they will be stringing the beads or objects onto to decrease string from fraying.  Also tape down to the surface you are working on to keep it steady for little fingers!).  Please take note of the collection of "objects" watching her during learning time!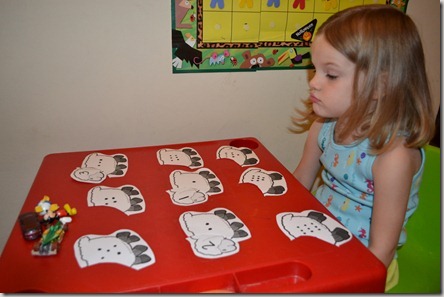 Sheep number match.  The sheeps bodies had certain number of dots and she had to match up the heads with the correct number.  We did the same game with some capital and lowercase letters later in the week too.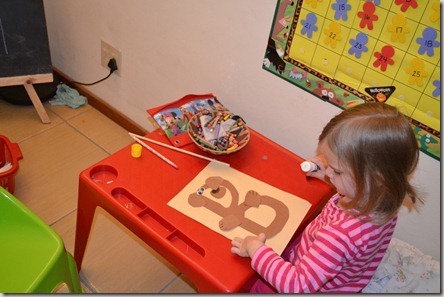 Letter B bear!
We also played with her blocks and babies a lot this week.  I didn't do much with the theme this week because I ran out of time to research it!  We did make a rainstick though out of a paper towel tube, toothpicks and rice.  She has enjoyed making music with it this week.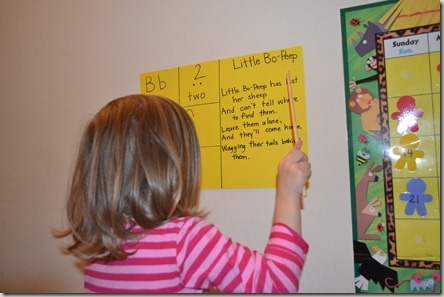 She also enjoyed playing teacher this week and walking through our calendar time, which includes going over our learning poster!
Here were her journal words for this week:
Name – we continue to practice this and get her writing it at an appropriate size.  She writes so large right now it covers the whole page and is all over the place!

Green – she found pictures of green things in a magazine and I cut them out for her to glue in her journal.

Baby – I modeled for her how she could draw a picture of a baby on her own.

Vine – she practiced drawing squiggly lines for vines.
Next week we will move onto the Letter C, as well as trying to do a few fun Halloween activities!