I have posted about my friends Catherine and Dave before and how very special they are to us.  This is why, with our upcoming move, we are trying to make the most of every opportunity we can to spend with special people like them!  When Ben mentioned he was asked to spend two weeks in Swaziland, I jumped at the chance to spend some time with Catherine and Molly.  We decided to meet in the middle for a long weekend in Atlanta, GA.  It was a great trip filled with laughter, late night gab sessions, shopping and some fun for the girls.  I would have liked a few more days with them, but I will take what I can get!
We stayed at the coziest little Bed and Breakfast called Hello B & B.  It was within 15-20 minutes driving distance from all our destinations (except for the outlet malls which were outside of town).  It was quiet and the perfect set up for traveling with toddlers.  The room we stayed in was split room with two queen size beds.  We could put Molly in one room and MIkayla in the other and they couldn't see each other to distract from sleeping.  Then we could sneak out into the living room area to talk while they snoozed.  Perfect!
We completed a lot in just a few days, and I was definitely exhausted when we got back.  We went to IKEA (someday when we return I want to complete my house with IKEA furniture), the Children's Museum, Outlet malls, Trader Joe's and the Aquarium!
I wasn't a very good photographer while we were gone, I got too caught up in everything.  I did manage to get a couple of good shots though, and Catherine took a bunch of great ones so I will just steal her copies! 
The Children's Museum – We were joined by a couple of school groups on this day.  The girls didn't seem to mind, but it made for a very noisy and crowded museum.  Eventually they went to eat and watch a performance so it quieted down a bit.  Mikayla of course loved bouncing from station to station.  Only staying at one long enough to look around before venturing to the next.   She really enjoyed the ball station and water station.  She actually got really made when I had to make her leave the water station because there were too many kids!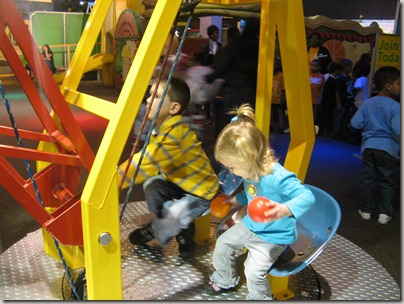 Ball Station – she did not want to let go of the balls!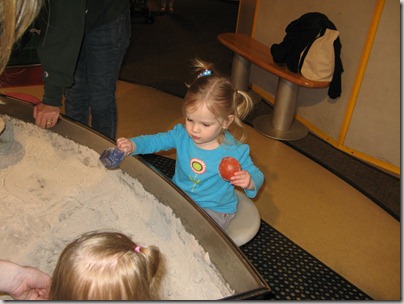 Sand station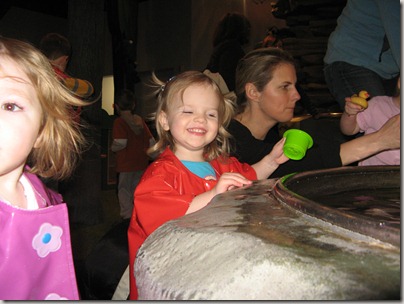 Water Station – she definitely has her "cheese" down!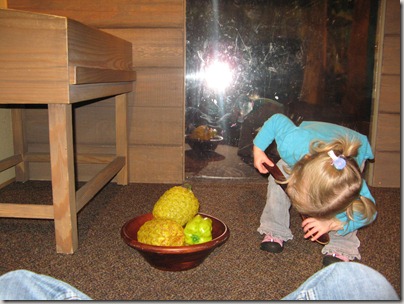 There was a special exhibit for Africa set up while we were there.  Here she is examining African fruit and veggies.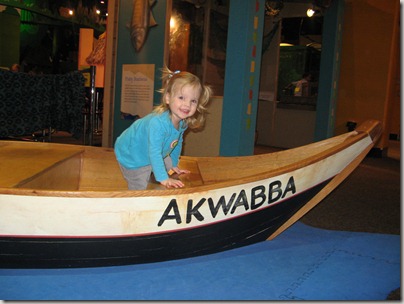 Just hanging out in the a fishing boat!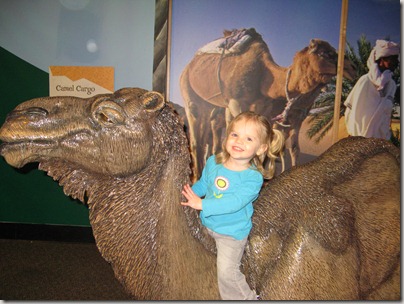 A little camel ride!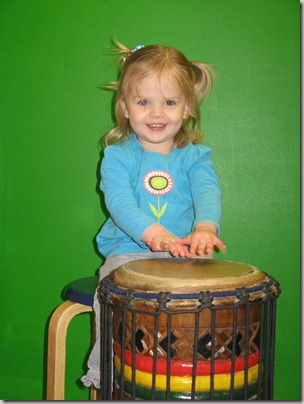 In the African set up there was a small room filled with bongos.  It projected you on the screen playing with some African musicians.  She loved banging on on them and watching herself.  Uncle Christopher would be proud at her rhythm.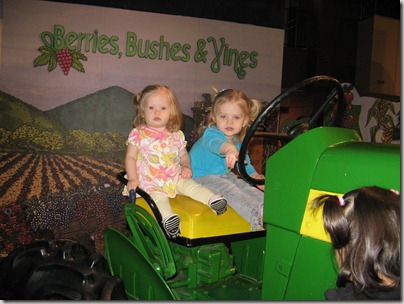 Attempting a picture of the girls.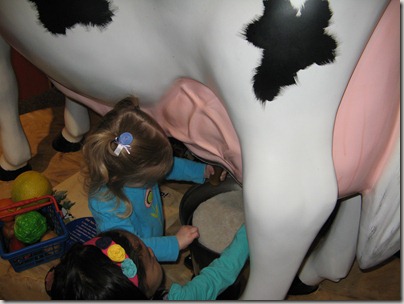 Milking a cow!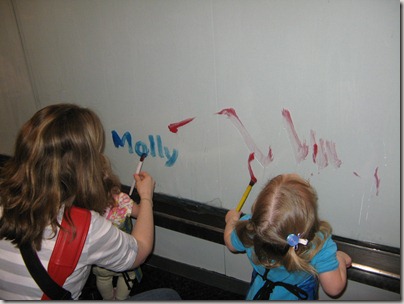 Painting…this kid loves to paint!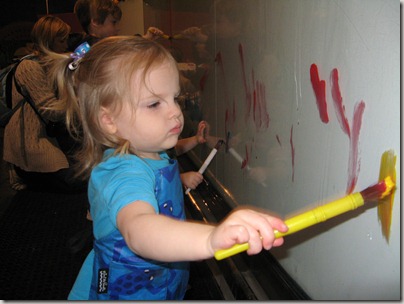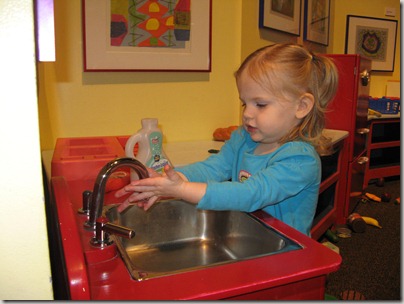 Kitchen station – she was in heaven with all the food and kitchen equipment!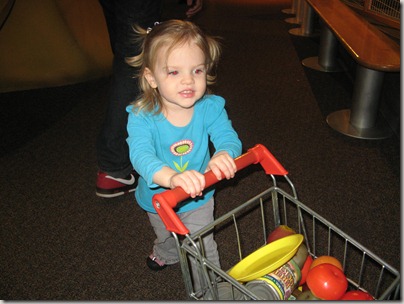 Shopping
Outlet Malls – One night we hit up some outlet malls about thirty minutes outside of the city.  We ran into some traffic issues so it took us much longer than that, but no worries we found some great deals.  And the girls loved playing in the rides outside of the stores, even if they weren't on!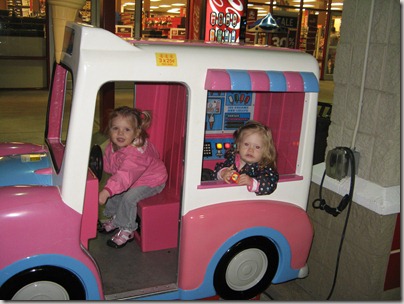 What flavor would you like?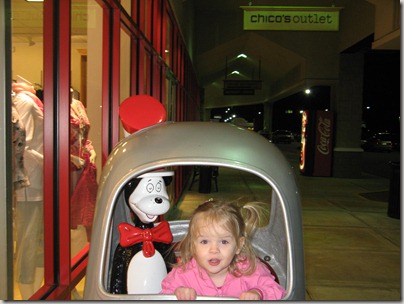 Cat in the Hat ride!  Can you sense her excitement!
Georgia Aquarium – The day we chose to go to the aquarium just so happened to be "Dress like a princess or prince day and get in free"!  So the place was filled with lots of royalty.  To say it was crowded was an understatement.  We did not take strollers, thinking they would have some to rent.  We were wrong!  So we ended up packing the girls around for several hours looking at the fish.  We couldn't let them walk much because there were so many people!  My arms were so tired after the aquarium.  I think they had fun, despite the crowds.  These are probably some of the worst pictures from the whole trip!  Sorry about their bad quality!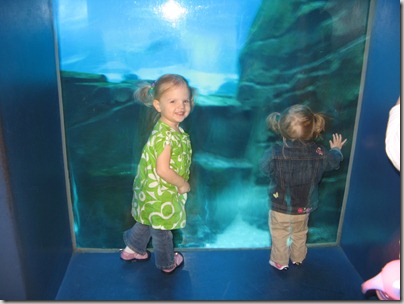 Loving the "fishies"!  We signed fish more times than I can count this day!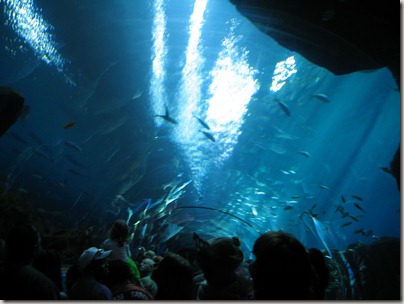 Cool overhead tank.  Notice the princess crowns and dresses.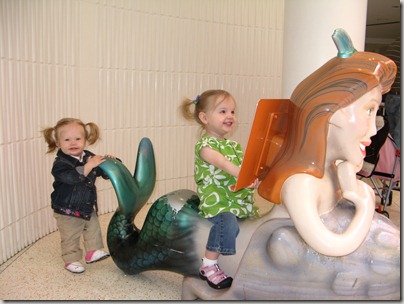 She loved the mermaid so much…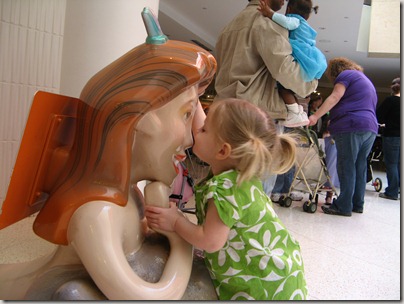 …she wanted to kiss it!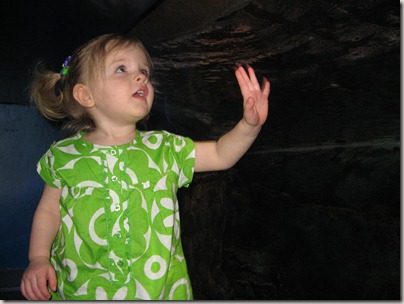 In a penguin crawl tunnel.  You crawled through to see the penguins up close.  Mikayla loved it the first five feet and then got scared so I had to carry her while crawling to the middle where she could see the penguins.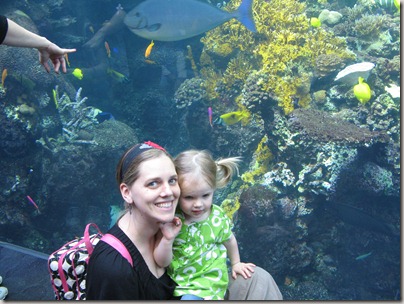 This is towards the end of the aquarium, notice how tired we both are!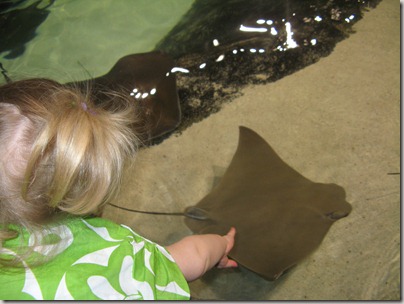 Attempting to touch a stingray.  Unfortunately she was just too short and I couldn't hold her over the tank enough. 
All in all, we had a great weekend.  The drive home seemed to take forever (partly because I was so tired, and partly because Mikayla refused to sleep)!  Thanks Catherine and Molly for making the drive and hanging out with us for a bit!