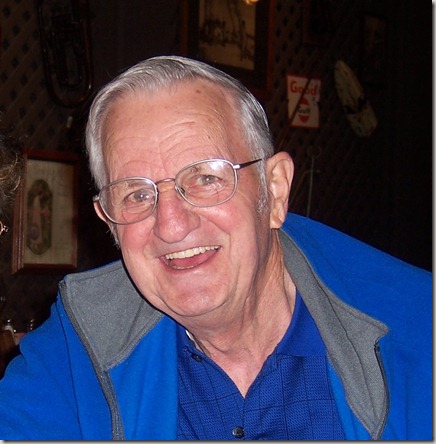 I think this picture says it all.  Pops with a smile
on his face while hanging out with his family.
My pops, my dad's dad was a great man!  He was always full of laughter and fun.  He was also quite the jokester.   The world lost a wonderful man when he passed away this morning.
A few years ago he was diagnosed with Alzheimer's, a terrible disease, that took him away from us mentally before he was physically gone.  I have had time over the last few years to reflect on his life and what a wonderful man he truly was.
I wanted to share some of the great and funny things he would do with his grandkids to show them how much he cared.
When I was a kid my siblings and I would often head to his house for weeks at a time in the summer to hang out.  In the back of his house, both in North Carolina and Kentucky he had a small wooded section.  We would play back there and collect firewood for camp fires.  Many summer evenings were filled with sitting around the fire.  He also always had a garden.  I remember how he would go to the garden and pick green onions and munch on them while harvesting the rest of the veggies.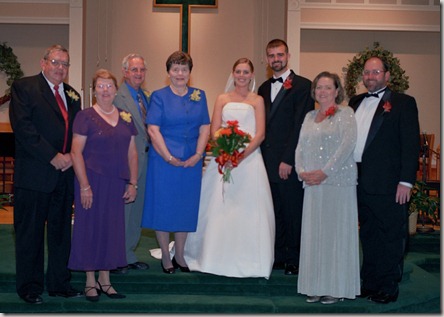 I have been very fortunate to spend time with both sets of grandparents in my life as well as most of great grandparents.
When you would yawn and he was nearby, he would immediately stick his finger in your mouth!  A terrible trick, but so funny at the same time.
If he was sitting next to you during a meal he would ask if you had ever played motorboat.  Then he would proceed to stick his finger in your food, wiggle it around and say motorboat, motorboat, motorboat!
He would often grab your nose and ask, "Want that any longer?" If you answered yes, he would respond with, "how long?" and pull your nose.  If you answered no, he would respond with, "well then I will take it" and pull your nose.  It was a lose, lose situation for you and a win, win situation for him.
A classic riddle he would do was the two birds named Pete and Repeat.  It went like this:  There were two birds sitting on a fence, one named Pete and the other Repeat.  Pete flew away, so who was left.  We would immediately say repeat, at which point he would start from the beginning.  It was an endless cycle!
Pops was always finding money.  Everywhere we went he was looking on the ground and in machines (pay phones, quarter candy machines, vending machines, etc).  And it never failed, he always found something.
Pops taught me everything I know about people watching.  He could sit and watch folks for hours!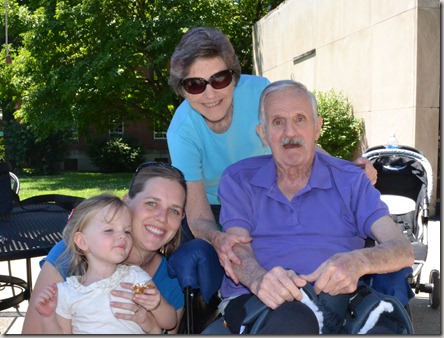 Saying goodbye to Pops before our big move to Africa.
Playing school was another of his favorite games.  This is a hard one to describe in writing, but I will try.  He would have you fold your hands together and then complete various "school" tasks.  Such as, spelling, math and even music.  When it came time for music he would squeeze your hands hard and when you yelled he said it was singing!
My Pops always worked at the newspaper.  I remember many days making the trip to the office with him to see how things operated!
If you haven't noticed I love to take tree pics with my kiddos, this is yet another thing I get from my Pops (in combination with my Grandma of course)! 
My pops was a wonderful man and these are just a few of the many things he did to make his children and grandchildren smile!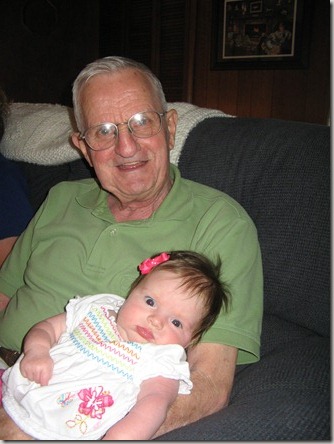 Pops with his great granddaughter, Mikayla. 
He loved all his grandkids and great grandkids.