Sometimes my daughter is hysterical!  She will often say things that prompt Ben and I to look at each other and say, "Where does she come up with this stuff?"  I mean seriously. 
Case in point.  Last night we had a late dinner so Mikayla showered beforehand.  The dinner included rice.  After dinner she showed us her bowl to see if she had eaten enough and I noticed clumps of rice in her hair.  Oy vey!  Off to the shower again to get out the sticky rice.  Ben got her rewashed and dried off again.  Then he told Mikayla it was time to dry her hair (before putting on her jammies).  Mikayla immediately started to cry and scream that she couldn't dry her hair without her clothes on, leaving Ben a little confused.  So he turned on the hair dryer and attempted to dry her hair.  She started crying more and began to cower in the corner of the bathroom, pitiful I know.  Ben then asked her why she couldn't dry her hair without her clothes on.  Her response, "because my skin will fall off".  Seriously??  You can't make this stuff up!!  Ben then responded, "Mikayla, why do you think your skin will fall off if we dry your hair without any clothes on?"  Her response, "Because mommy said so!"  So Ben scoops her up and brings her to the kitchen where I am washing dishes and asks me if I told Mikayla her skin would fall off if she dried her hair with no clothes on.  My response was no, of course not!  Her demeanor immediately went from tears and fear to smiles and laughing!  She allowed Ben to dry her hair, with no clothes on, and amazingly her skin stayed right where it was!
Another funny Mikayla antidote happened a few weeks ago.  She was playing with one of her dolls that go with her dollhouse and he leg popped off.  She took it to Ben and asked him to fix it for her.  Here is how the conversation unfolded:
M:  Daddy can you fix his leg again?
B: Why did you break the leg off your doll?
M:  I did it on accident…No wait… On purpose…wait… Mommy, which one do I not get in trouble for?
Got to love the things that come out of a kids mouth!  Happy Tuesday everyone.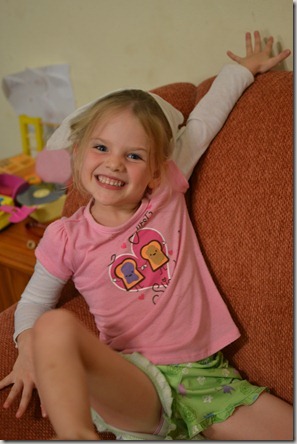 Mikayla in her silly jammies.  She loves to mix and match her jammies tops and bottoms every night!