For the last couple of weeks I have been part of the planning committee for our term break camps.  Each school break the kids that stay at the hostel return home to be with their families.  Periodically during these breaks we will bring those that are 15 years and older back to the hostel for a fun filled camp.  The camps consist of sports, guest speakers, life skills training and much more!  Last week was our camp for this school break and it kept me super busy!  Mikayla and I would leave the house each morning and not return until supper or later!!  I was the "behind the scenes girl".  I did not have a super specific role, but floated around and helped to fill in the gaps where needed.  I was on my feet a lot and running around, which made me super tired!  Not sure how I taught kindergarten right up until Mikayla was born!!
Part of the camp was a mural project.  We took the theme "Live Your Best Life" and had each group (there were four) complete one of the words in the theme on a large board.  The kids spent the first day brainstorming, then Ben took their ideas and created the designs.  I then projected them onto the board and traced them. The kids took over after this painting and filling in with additional thoughts and ideas.  I think they turned out pretty good for their first big art project.  Thanks to all my time at Kaleidoscope I was able to help get this project completed!!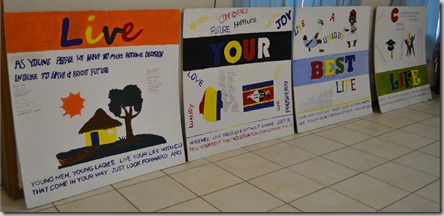 Another highlight from the camp week was the Cabrini staff vs. Camp kids soccer match.  It was quite entertaining and actually a really well matched game (with the exception of a couple of out of shape gentlemen)!  Here are a couple of shots from the game. Oh and the kids won (1-0) in overtime!!

Staff in blue, kids in green.  Anyone notice something out of place in this picture?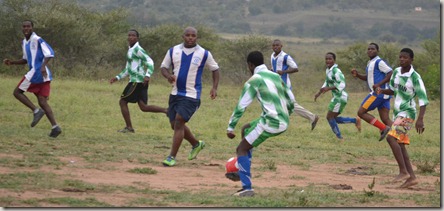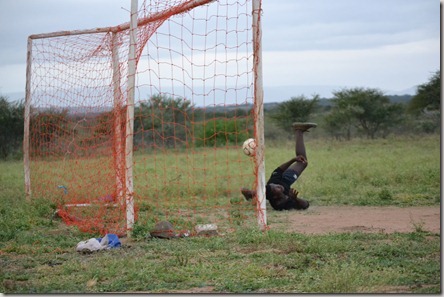 We spent the weekend recuperating from camp and relaxing!  I had a fabulous Mother's Day where Ben and Mikayla let e watch movies and relax on the couch all day.  They served me food and wouldn't let me lift a finger!  Just what this momma needed!  Love my family.