We have had a busy Christmas season, although it hasn't felt much like Christmas here.  The 100 degree days, lack of snow and Christmas decorations made it difficult to really get into the Christmas spirit.  We did our best by listening to Christmas music, hanging stockings and putting up a tree.  Most of our Christmas vacation was spent in South Africa.  We were actually talking to a friend from home this week and decided that our holiday season seemed more like a vacation than a holiday season, so it was different.  But I think we all enjoyed ourselves despite missing family and friends.  The sisters were wonderful and took us under their wings to celebrate with us.
On Thursday of last week we slept in and then headed to Komatipoort, South Africa right on the Mozambique border.  We spent the evening driving around and swimming.  We woke up early on Friday morning and headed to Kruger National Park.  It is one of the biggest game reserves in Southern Africa and is the best known.  We saw some incredible animals.  Whole herds of elephants, lions, giraffes, impala, rhinos, hippos.  You name it and we probably saw it.  We saw four of the Big Five within the first few hours.  The only animals we didn't see that we really wanted to were cheetahs and leopards.  Although at one point we were pulled off with several other vehicles, including a tour guide, where there was supposedly a leopard in the tree.  We never saw it, but like to pretend that we did!  I am not going to include all of our animal shots, but you can check them out on Ben's Facebook page if you are curious.  Here are just a couple of snapshots.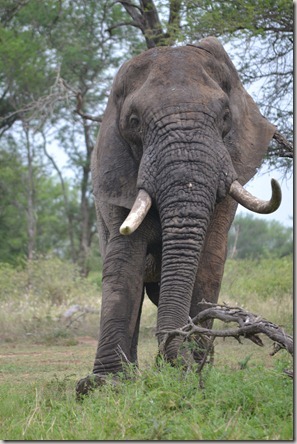 First elephant we saw for the day and probably the largest!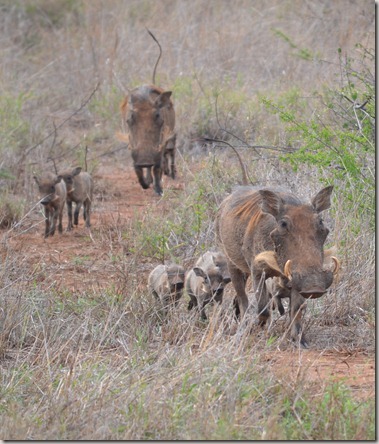 Warthog family.  First time I have actually seen a baby warthog.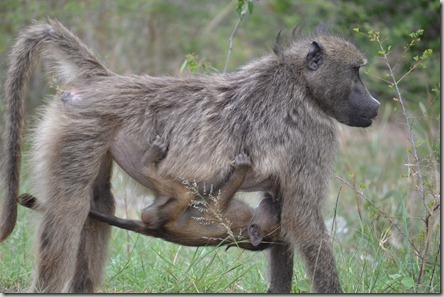 Nothing like eating on the go!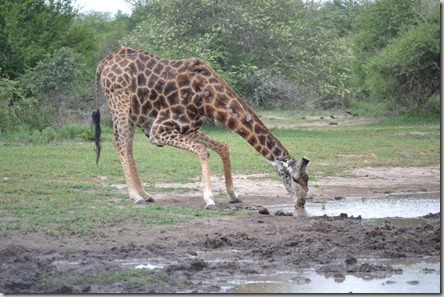 Drinking giraffe.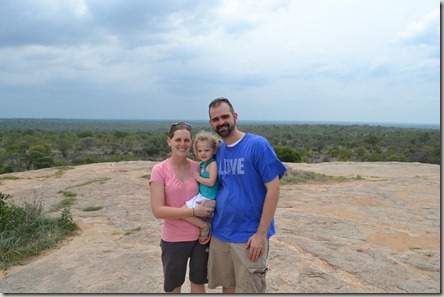 Don't you just love Mikayla's hair in this picture!  I swear we brush it every once in awhile.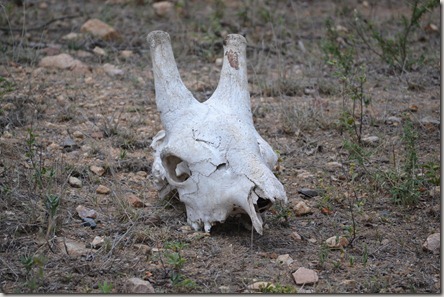 I wanted to take this giraffe skull home but Ben said it would be illegal.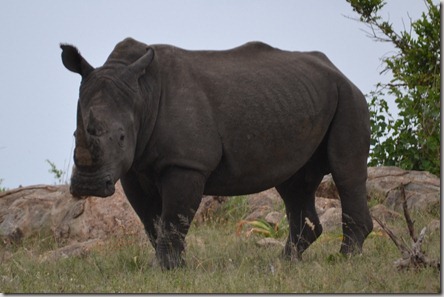 One of our last sightings of the day was this monstrous rhino.  He kept trying to get away, but we finally captured a few good shots.
After a full day of driving around the park (we covered over 300km) we headed towards Nelspruit, South Africa where we spent the rest of our Christmas.  Nelspruit was incredibly western, with almost any type shop you can imagine.  If you didn't know better you wouldn't have thought you were in Africa.  On Christmas Eve we drove around the city and checked out some of the shops and malls.  It was amazing how much like the States it felt.  We were lucky enough to find some really special finds.  There were tons of clothing stores, two good outdoors shops, a couple of great liquor stores with good wine and familiar spirits, and a huge Toys R Us (although we didn't go in this store for obvious reasons).  We even found a candy store that sold Willy Wonka candy!!  Then at the grocery stores we were able to pick up a few things we don't really see in Swaziland too often – Funfetti cake mix (no Rainbow chip icing though), tortilla chips, salsa in a jar, taco seasoning, corn syrup (stocked up for rolls next year), tahini paste (for hummus), pretzels and few other odds and ends.  That evening we headed to visit with the sisters for pizza and a few games of Boggle.  We also attended the midnight mass before heading back to the hotel. 
We woke up on Christmas morning not really feeling like Christmas at all, but we still tried to get in the spirit of things.  Mikayla opened her stockings and couple of small packages from us.  It took her a good half hour to open her stocking because she would only pull out one thing at a time.  Then she would ask questions about it or play with it for a second before moving on.  We ended up giving her the big gifts before we left so we wouldn't have to pack them and worry with customs at the border.  All in all I would say she racked up this year with gifts.  She got a table and chairs, her rocking giraffe swing (check out Facebook for the video), a tea set, blocks, a mop and broom cleaning set, tons of books, a new dress, some Signing time DVDs and a few other odds and ends.  And she still has a couple of other packages on their way that haven't arrived yet.  She was excited about each of them and jumps from one thing to the next now that we are back home.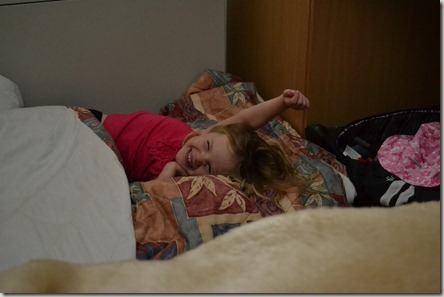 Waking up Christmas morning.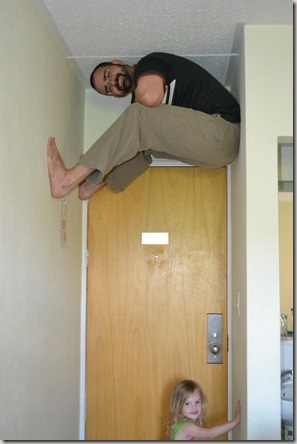 Playing around in the hotel.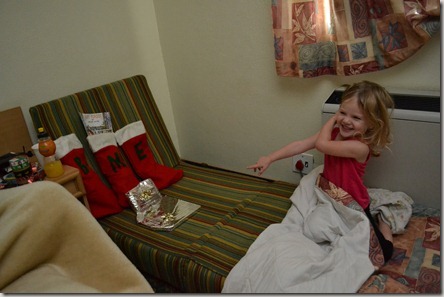 Stockings and small packages on Christmas morning.
After showering and opening packages we headed back to spend some time with sisters for a Christmas brunch and then back again for a fabulous Christmas braai.  Mikayla and Ben were even able to do a little swimming!  We crashed early Christmas evening and then headed home the next day.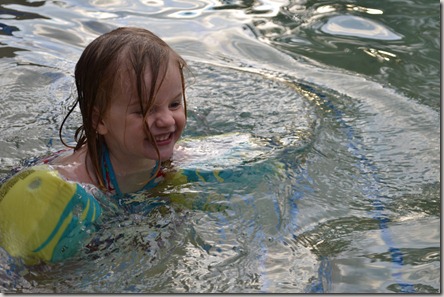 Cheesy girl enjoying swimming outside in December!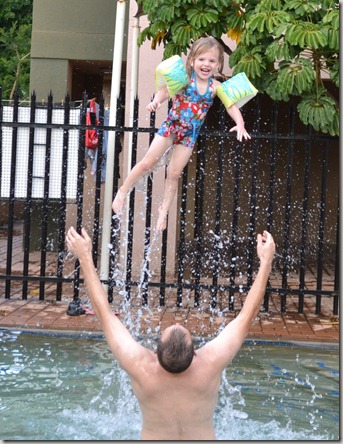 Swimming with daddy!
We spent yesterday relaxing at home (I started reading Harry Potter and can't put it down), cleaning and organizing.  Sometime today we will be picking up the twins for a months stay at our house.  The kids from the hostel are on holiday right now (summer vacation) and the twins have been back at their homesteads for about three weeks.  This will be a much different stay for them because they are both relatively healthy now and extremely mobile.  Both are walking/running all over the place!  I think this time it will feel more like we have triplets than just three kids.