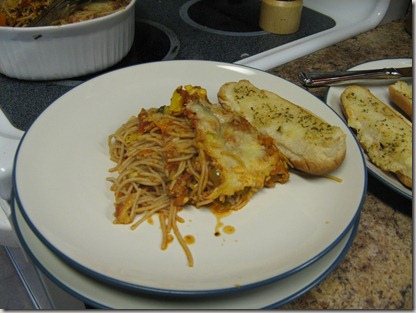 This is a spin off of traditional baked spaghetti, but yummier and healthier.  It is loaded with fresh summer veggies.  Here is what you will need.
1 lb of ground meat of choice (we use turkey, but some prefer beef)
1 package of noodles of choice (we used spaghetti because that is what we had on hand)
Any garden veggies in season (this particular dish had squash, zucchini, onions, shredded carrots, and green peppers)
Italian seasoning
Spaghetti sauce (although if you have tomatoes ready it would be even better with some fresh stewed tomatoes)
Cheese (we used parmesan and Italian blend)
Simple and easy, here is what you need to do:
1.  Chop veggies into bite size pieces or smaller.  If you are making this for picky eaters (i.e. toddlers) then you could process them in the food processor and make a veggie puree.  They don't have to know what is in there! 
2.  Brown meat with chopped veggies.  Drain.  In the meantime, boil water for noodles and put noodles on to cook.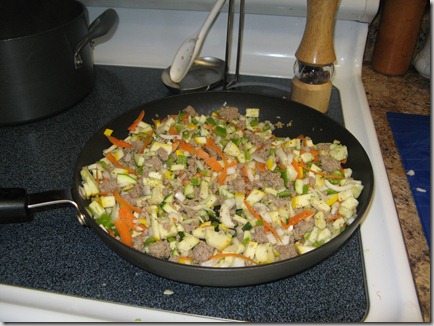 3.  Drain meat and return to pan.  Mix in spaghetti sauce or stewed tomatoes.  Add in Italian seasoning and allow to simmer for a few minutes.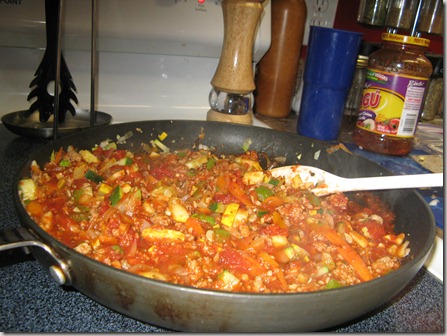 4.  Layer meat mixture and noodles in pan.  Top with cheeses.  Cover and bake for 20-30.  Remove foil and bake an additional 5-10 minutes until cheese begins to brown.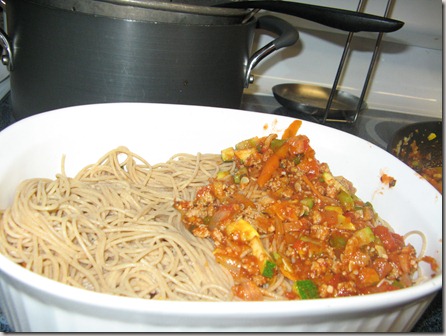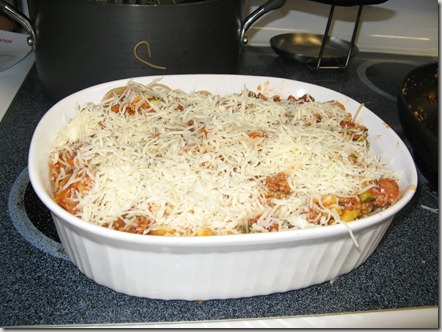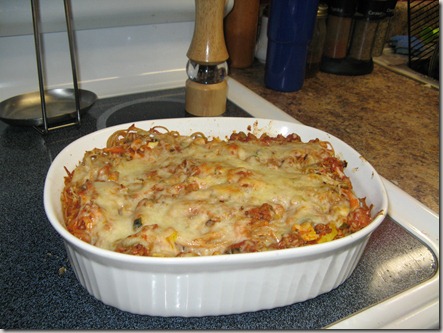 5.  Serve with yummy garlic bread.  To make bread mix a couple of tablespoons of softened butter, garlic, Italian seasoning and Parmesan cheese.  Spread on bread of choice (we used hot dog buns today because that is what we had on hand, but it is best with a French loaf).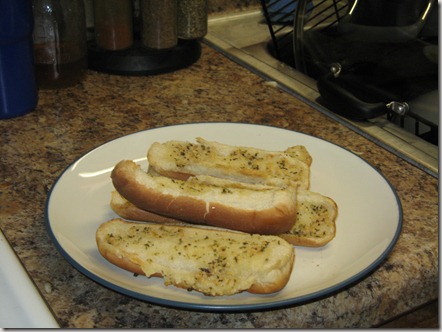 Speedy tip – To speed this dish up we pre-buy ground turkey in bulk and cook it immediately.  Then we divide it up into Ziploc baggies and freeze until we need to use it.  When we are ready, we defrost and add to a dish.  This saves about 10-15 minutes of prep-time on a dish like this!  We will also do the same thing with stewed meat and chicken.