Mikayla is now sixteen months old and is growing like a weed.  We can hardly even call her a baby anymore.  I have intended to sit down and write out her birth story for some time now (sixteen months to be exact) and just haven't found the time.  I actually started writing this when Mikayla was two months old and never finished!  Such the procrastinator. 
I am writing this more for me than anyone, but wanted to have some sort of record of it.  Disclaimer:  This might get a little too personal for some so please read with caution!  Ok here it goes.
My last day of work was Friday, April 24.  My kiddos and I celebrated by having a Popsicle and Play party before the day ended.  It was a perfect way to end the year (at least end my year)!  Monday was my first official day of Maternity Leave.  I spent the day finishing up my class work for my Rank I class.  By the afternoon I had finished up my class and was "ready to play"!  Ben and I cooked a nice dinner and then went for a long walk with Shiloh.  We hung around the house for a bit and then decided we would go rent a movie.  We then headed into town to rent a movie, making a quick stop at Kroger for some essentials.  I decided I had to have a bean burrito from Taco Bell so that was our second stop.  Unfortunately, when we arrived at the Bell, they were out of refried beans.  How does a Mexican restaurant run out of beans?  I mean really, but that is a completely different post.  Disappointed, I decided I would settle for a double cheeseburger and fries from McDonalds where we were picking up our Red Box.  Don't judge, I was nine months pregnant and hungry!
We got back to the house and started watching our movie around 10:00.  I know what you guys are thinking, man that is late for you Beth!  Let me back up for a minute and explain why I was "up so late".  You see, being nine months pregnant does not allow for comfortable sleeping.  I had actually been napping a lot better than I had been sleeping at night.  So, Ben and I had made the decision to stay up late until I was completely exhausted and then go to bed.  I was planning on napping the next day.  Well, Little Miss Mikayla had different plans for us, much different.
Ok, back to the story.  Around 11 I started feeling this pressure in my lower abdomen.  It came and went about every 10-15 minutes.  At this point I was like "This could be contractions, maybe I should say something to Ben".  I shifted positions and tried to ignore them.  However, they kept coming back.  I mentioned them to Ben and he suggested I take a shower.  In the shower the "contractions" seemed to disappear.  So we decided to try and head to bed.  I went to the bathroom one last time and noticed quite a bit of blood when I wiped.  This of course freaked me out so we picked up the phone to call the doctor (it was late 1:30 or so).  He said it sounded completely normal, but we should head into the hospital to check it out just to make sure.
We gathered our bags and headed into the hospital.  We tried to be nonchalant about it because we didn't want them to stick me in a wheel chair (that is policy for after hours women in labor).  We didn't really think we were even in labor.  We made it up to labor and delivery, convinced we would have to head home.  They hooked me up to the monitor and sure enough I was having contractions every few minutes, who knew?  We hung out for awhile, worked through some contractions, watched a little Friends, made some phone calls to family to let them know what was going on, and tried to relax.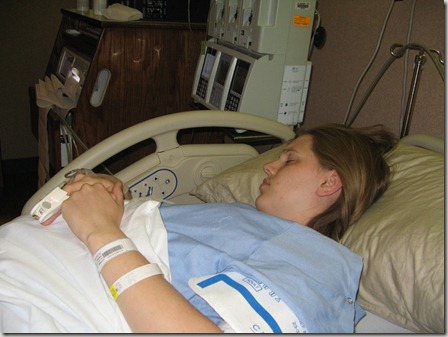 Trying to relax a little in between contractions.  This was post-epidural!
Along the way I had a special visitor come in for the duration of our labor.  A student of mine had a mom who was a labor and delivery nurse.  She told me to call when we went into labor if she wasn't at the hospital, so when we got there I made the call.  Unfortunately, it was her day off!  However,  she was so generous to donate her time and come in and sit by our sides for the entire process.  She was a huge blessing.  She was able to talk to us a friend and nurse at the same time.  She, along with Ben, talked me through the contractions, encouraged me during pushing and hold my hand along the way.  I am not sure where we would have had as smooth of a delivery if she hadn't been around!
At this point I was only dilated 3 cm or so.  We stayed this way for quite some time.  At some point my water broke and the contractions became so unbearable I decided to go ahead and get the epidural.  AMAZING!  At first it didn't work out to well, only numbing me on one side.  However after a few small modifications, like laying on my side, things started working pretty well.  I was even able to make a few more phone calls.  Two I remember well were to my long term sub to check on my kiddos and the other to our secretary at school to pass the word along about my progress.  We were moving right along.  A few hours passed and still hadn't made much progress.  Dr. D came in and suggested we start a little Pitocin to speed things up.  We did and this helped.  At this point things speeded up quickly.  At one point I remember a nurse coming and checking to see how far along I was, which was 9cm.  She left and by the time she left the room I told Ben I felt like I needed to push.  He quickly retrieved the nurse and sure enough it was time.
We pushed for around fifteen minutes and then heard the words, "It's a girl".  Ben cut the cord and I heard our baby cry for the first time.  It was the sweetest cry in the world!  These past sixteen months have been a whirlwind of emotions!  We have laughed, cried, played, and most of loved our little bundle!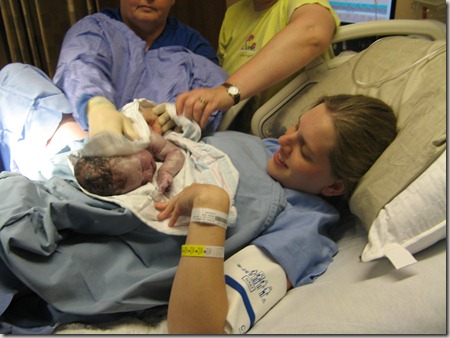 My first time holding and seeing my daughter.  Side note – the lady in the yellow shirt was the off duty nurse who came in to support us!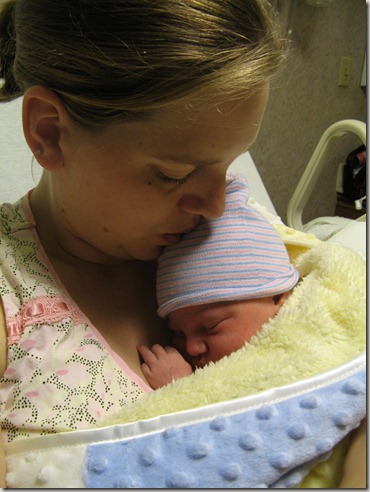 One of our first pictures together!