Max continues to grow and change everyday.  Just when we think we have him figured out, he throws us a curveball and we have to regroup!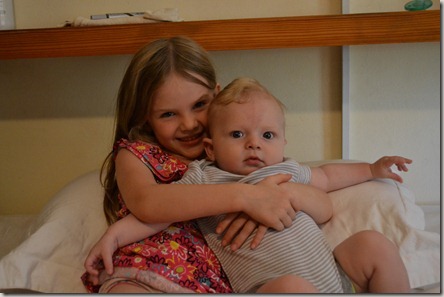 Mikayla still very much loves her brother and is always trying to love on him, hold him, kiss him, and blow raspberries on his belly.  She is so cute when she talks to him because she sounds just like Ben and I do when we converse with him.  So sweet.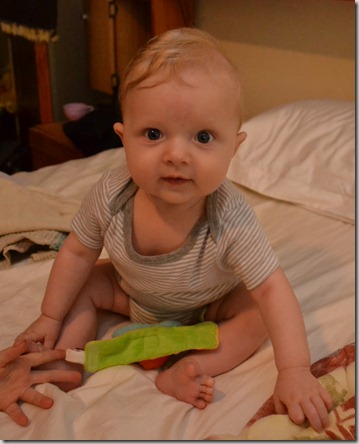 Sleep still continues to be an issue for this big eyed boy!  Seriously, this past month has been a hot mess for us!  One week he is waking every hour and refusing to nap during the day.  One day he went the entire day, until 3:00, with only half an hour of sleep.  Needless to say we were both ready to be crying at that point because he was so grumpy.  Luckily, he took an hour nap at that point and was ready for bed by 7:00.  I guess he just doesn't want to miss out on anything, even at night time!  One day maybe…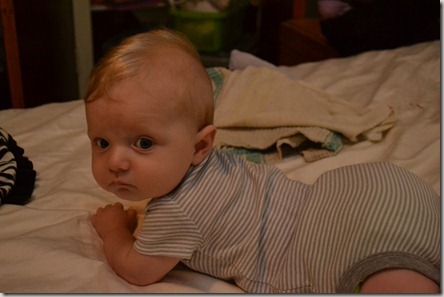 This kid is a mover and a shaker!  He is constantly rolling around and reaching for objects.  Once he grasps ahold of something it immediately goes into his mouth, no matter what it is!  The other day he got ahold of some paper and in it went.  We quickly scooped it out though, so no worries.  Mikayla has gotten really good at watching out for this and yelling at us if he is about to grab something he shouldn't have.  His little legs are getting so strong too.  The other day we were at a meeting at the hostel and he was pushing his legs against a heavy wood table and actually pushing it forward.  The staff were cracking up at him.  One staff member even said, "He is active"!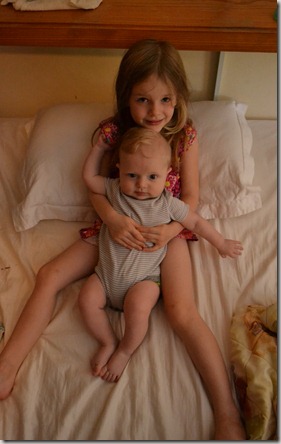 He has this funny way of moving about on his back.  We refer to it as the reverse inchworm.  Mikayla used to inch along on her belly and look just like an inchworm.  Max chooses to complete this action on his back.  He arches his back and then pushes off with his feet in such a way that he is able to scoot along the floor fairly quickly.  You really have to watch this kid.  You can get a little glimpse of this movement in the picture below.  I am still trying to capture a good video of it.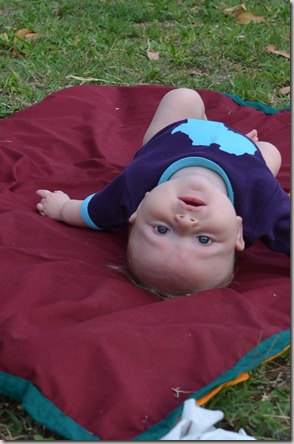 Max has started to sit up on his own more and more.  You still have to really watch him because he can go very quickly from sitting to falling on his head!  And let's just say he is not very happy when his head smashes on the floor!  He loves to be sitting up though.  We took a trip this month to a little play place that is in town.  He loved sitting in the ball pit and playing with the balls.  He actually got mad when I tried to take him out to play with another toy.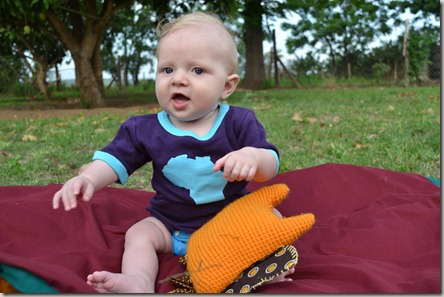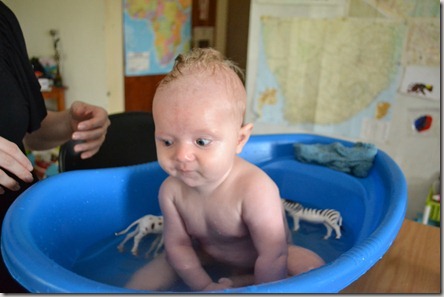 Photo credit to Mikayla.
Max has also gotten extra chatty this month.  Once he gets going "talking" it is hard to stop him.  And he has also found his "voice", meaning he can get really loud when chatting.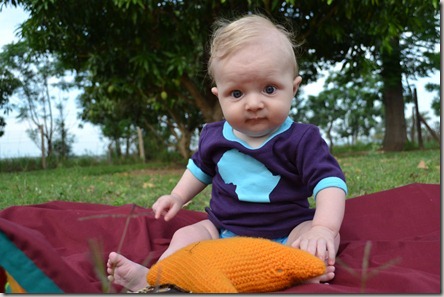 I love the face he is making here!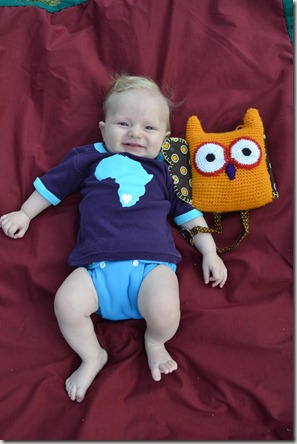 Max with his "Grow With Me Owl".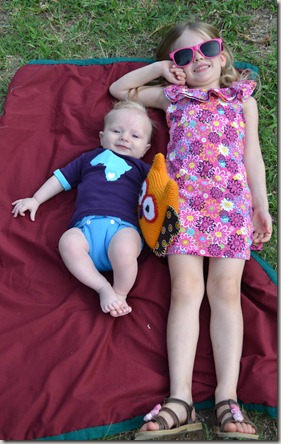 Chilling with his big sis!  He seriously loves this girl!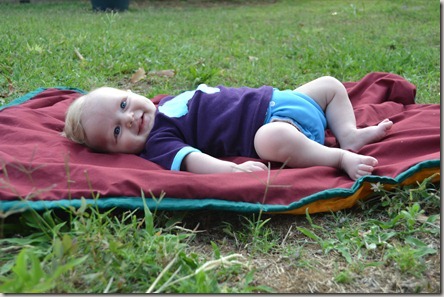 Ben decided he had enough of Max's crazy hair and trimmed it up a bit this past month.  He snipped a little off the top and around the bottom (most of the dark hair).  It has already grown back out though!  He keeps joking he wants to give him a buzz cut, but so far I have been able to persuade him otherwise!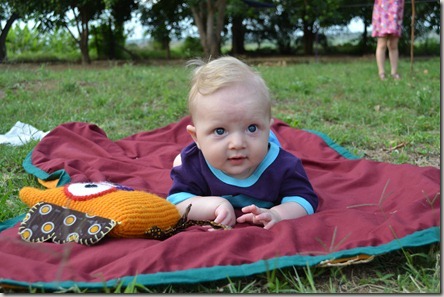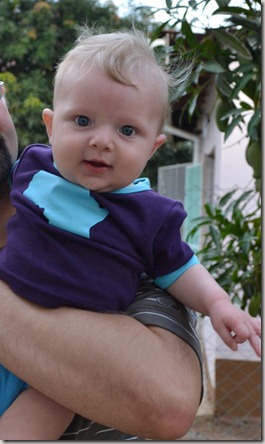 We didn't start Mikayla with solid foods until she was six months old, but as much as this boy eats I think we will be starting him sooner rather that later.  I am sure that will be a messy and fun adventure with this kid!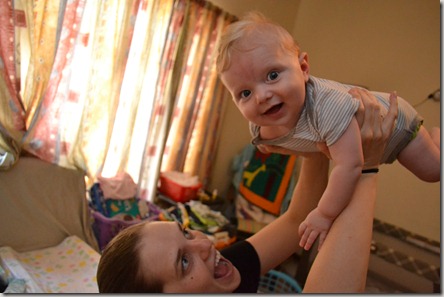 Photo credit to Mikayla.