For our third field trip of the summer we decided to head to a local hotel that has an indoor fountain and glass elevator.  I thought Mikayla would like to watch the water and ride up the elevator and see the "sights".  I think she had a great time.  Daddy got to come along for this trip which made it extra special.  We watched the fountain for a bit and stuck our hands in the water.  Mikayla really liked to feel the different plants and point to everything!  She even got a kick out of the stone turtle and frog that were hidden in the plants.  She loved going up and down in the elevator and watching everything along the way.  Here are some pictures from the trip.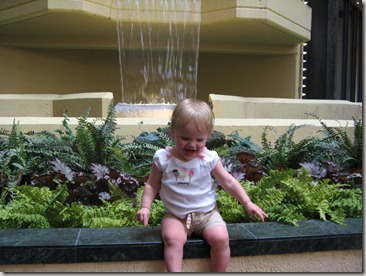 Laughing as she climbs off the ledge.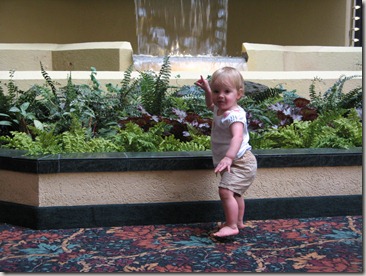 Pointing to the fountain (and please ignore the fact that she isn't wearing shoes)!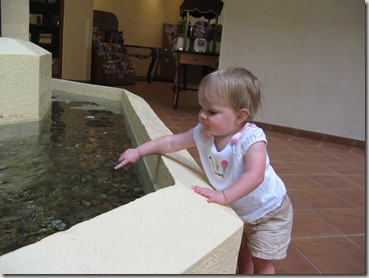 She was very cautious about sticking her finger in the water.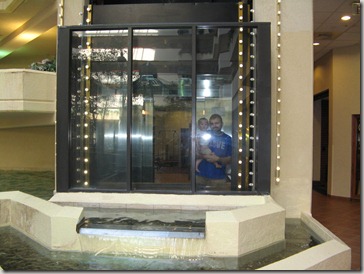 Daddy taking his turn going up the elevator (sorry about the flash).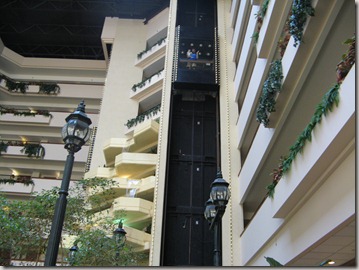 So high you can hardly see them!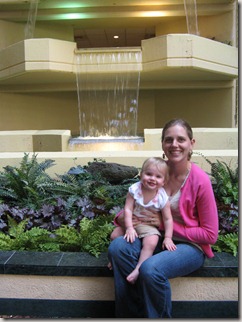 My baby girl and me!
In case you missed our other field trips you can check them out here and here.  Stay tuned for our next adventurous field trip. 
Tags: Ben, field trips, Mikayla, summer