Swaziland: The Decision
Beth and I first began talking about a possible move to Africa nearly 3 years ago.  For over two years we have been looking to move to Swaziland in particular.  In July we visited with over 20 individuals and organizations to get a feel for where our place may be.  [If you want to look back at the journey so far, you can start here.]
After our trip this summer we felt very affirmed in our decision to move, but unsure of where we would end up.  Through careful discernment and lots of conversations, we were able to narrow it down to three locations.  All three seemed like viable options and all three were interested in the possibility of us joining them.  Although we might have had our leanings, we wanted to be sincerely open to whatever presented itself.
Eventually we found that one would probably not be possible financially and another didn't have a position at the time that would fit our skill set.  So earlier this week, Beth and I were sitting on the couch and I said, "Well I guess that means we know where we will be working in Swaziland."  Beth answered, "Yup… I guess so."  And there it was… three years of research and discernment summed up in a 5 second conversation.  It was kind of anti-climactic, but at the same time very affirming; the decision was so clear it did not require any lengthy discussion, just a simple affirmation.
So now that you have read 3 (rambling) paragraphs, I am sure you are wondering what we have decided; so here you go:
As of July (tentatively) Beth, Mikayla and I will be moving to the lowveld of Swaziland Africa to work with Cabrini Ministries.  (You can read more about their work at their blog.)  I will help with strategic planning and development and Beth will help with education and psycho-social services.  There are still lots of details to work out, but we are very confident in our decision.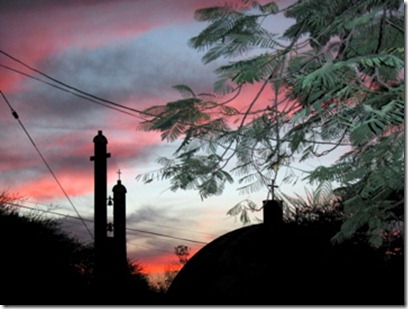 The amazing thing is that when we flew to Africa we had intentionally chosen not to meet with Cabrini.  You see part of what attracted us to Swaziland was the mountains and the temperate climate.  Cabrini has neither of those things; it is flat, dry, shrubby land and it gets hot—freakin' hot—like 115 degrees hot.  We figured, if we had our choice, we would avoid that low lying area of the country.  However, people we met with kept encouraging us to check them out.  One gentleman at an NGO we met with told us point blank that we had to go there and that it would be a perfect fit for us.  So hesitantly we rearranged our plans and actually cancelled a planned trip to a game reserve to drive an hour out on dirt roads to visit this Catholic Mission in the "bush."
We met with Sister Diane, one of two Catholic nuns who works with Cabrini.  She showed us around (the whole community is only a few acres) and answered all of our questions.  She explained that what they were looking for was not a person to fill a job description, but people who could commit to their community and respond in love and compassion.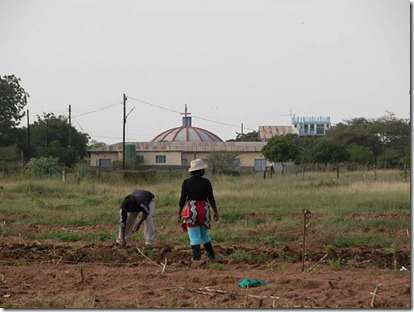 Even though it is a Catholic mission, it was obviously we had strong theological connections and that our view of ministry was very similar.  It was also obvious that St Phillips (where the ministry is located) would be an ideal place to be immersed in Swazi culture.  (You see, a vast majority of Swazis live on rural homesteads, yet most of the places Beth and I visited were in urban/suburban areas.)  Our hesitations mainly lay in the remote location and the weather – both things we are confident should come secondary to finding a location where we can actively contribute to a vibrant community doing good work.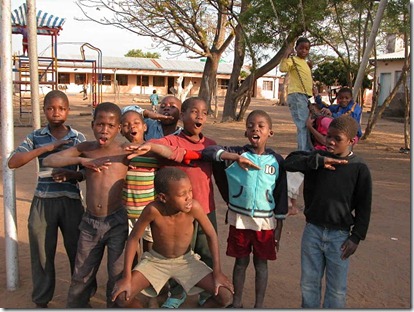 When we returned to the States we stayed in contact with sisters and they told us they would discuss the practicalities of us working with them and get back to us in October.  One week later they wrote us with an informal job offer.  A few weeks after that we spent over an hour on the phone talking about what things might look like if we joined them.  Today I called them and let them know we would be accepting their offer.  We all are very excited and fit seems very natural. 
Overall the whole process has been incredible.  Over the course of the last several years, we have researched well over 100 possible locations in Swaziland where Beth and I could relocate with Mikayla.  Of those we felt 20 were places where we could reasonably contribute and be happy.  Even though many of these stood as strong possibilities, only three made our final list.  At the end, our choice of the one was undoubtedly the best fit for us as a family.  It is a place where we can be a part of good work that is already going on and contribute in ways that are meaningful and needed.  It has been quite the journey, but as I write this post I am completely confident in our decision.
We will post more as it develops, but I wanted to take the time to let you all know at least the basics of what our future holds.
Cheers,
-Ben, Beth and Mikayla