I think I have the most beautiful daughter in the world.  Just check out this picture from Halloween: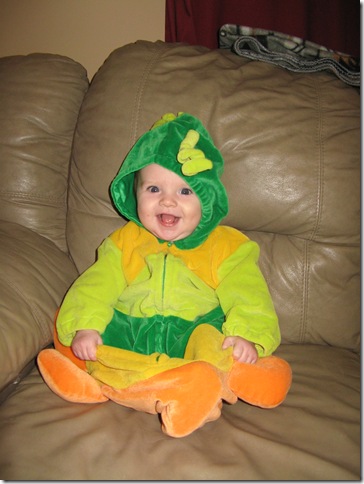 Every chance I get, I tell her she is beautiful.  Beth and I constantly ask ourselves, "Honestly, could she get any cuter?"  I feel like we were playing Russian Roulette with my looks being in the gene pool, and luckily she turned out pretty good looking (if in 10 years she has a uni-brow and a beard, you know who to blame).
But I will be honest with you, sometimes I worry about her being so beautiful.  Will she grow up and be vain?  Will she have difficulty understanding inner beauty because she always possessed outer beauty?  If (when) her outer beauty fades, will she allow it to bother her?
I ask these questions but at the end of the day I don't really worry about them.  That's because Mikayla has an amazing personality for a baby. She is content and inquisitive.  She would rather smile than cry.  She enjoys company and can play alone.
In fact, instead of worrying about her, I have found she has many things she can teach me.
The joy of discovery – I am going to take credit for her constant fascination with everything around her.  I am pretty sure she gets spirit of inquiry from me.  However, whereas I usually approach things with a great deal of skepticism, Mikayla also approaches new things with joy and wonder.  She is excited about every new thing…. even when it turns out she does not like it (like with avocados).  Sometimes my own questioning brings about negativity.  I wish I were more like Mikayla and could find joy in every question and discovery.
Approach everything with a smile – Mikayla's first response to a situation is to smile.  It doesn't matter if it is her mother reaching for her, or someone she has never met.  She is always happy to see you.  This is even true of things that might threaten her.  Our dog sometimes get skitish when Mikayla is on the floor.  Sometimes Shiloh will bark at her.  Still though, she smiles and laughs and loves.  If only I were so accepting.
Explore your possibilities, but be content where you are – Mikayla is usually very happy where ever she is, whether it in her crib, on the floor, in someone's arms, or in her car seat.  At the same time though, she is always looking around and exploring every nook and cranny.  However, she does not allow that inquiry to make her discontent.  She wants to know what's on the other side of the crib, but that doesn't mean she doesn't enjoy it there.  Mikayla uses the discovery process to better understand her current situation – not simply to try and replace it.  I wish I could have such an attitude.
Let people know when you are hurting and how they can help – Beth and I have learned Mikayla's various cries.  She lets us know when she is hungry or tired or has gas or when she just wants to be held.  She is able to tell us how we can help her.   Looking at myself, that is something I need to do better.  Even when I know I am hurting, it is rare for me to let people into my world so they can know how they can help me.
There is plenty we can learn from babies.  Unfortunately instead of letting them teach us, we all to often try to make them see things our way.  I hope in the years to come I can be a loving and effective teacher for my beautiful daughter, but more importantly, I hope I can always be her student and let her constantly teach me.