Sex, Drunk Driving, and a call to Polygamy
It is no secret that Swaziland's main newspaper The Times is more akin to The Weekly World News than to the New York Times.  It is also common knowledge oddities are often a part of daily life in Swaziland.  But occasionally, you find an article that really makes you shake your head and say "Did I really read that?"  Today's paper included one of those articles.  Here is a scan, but you can also click the image to read the online version.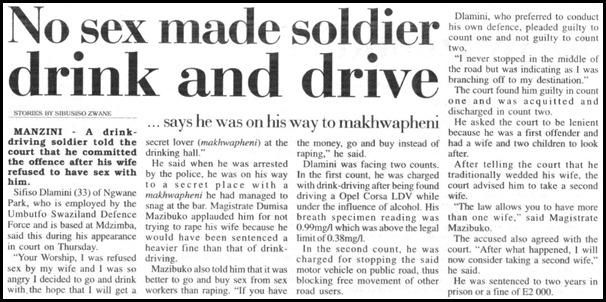 This article really has some gems (or you could call them glimpses into depravity).
MANZINI – A drink-driving soldier told the court that he committed the offence after his wife refused to have sex with him.

Sifiso Dlamini (33) of Ngwane Park, who is employed by the Umbutfo Swaziland Defence Force and is based at Mdzimba, said this during his appearance in court on Thursday.

"Your Worship, I was refused sex by my wife and I was so angry I decided to go and drink with the hope that I will get a secret lover (makhwapheni) at the drinking hall."
Ahh… the classic sex-depravation justification.
But thankfully we learn that this gentleman's needs were met:
He said when he was arrested by the police, he was on his way to a secret place with a makhwapheni he had managed to snag at the bar.
So how does the court respond to his self medication with drinking and infidelity?
Magistrate Dumisa Mazibuko applauded him for not trying to rape his wife because he would have been sentenced a heavier fine than that of drink-driving.

Mazibuko also told him that it was better to go and buy sex from sex workers than raping. "If you have the money, go and buy instead of raping," he said.
I don't even know how to comment on that.  At least there is an acknowledgment that marital rape is not a good thing, but how in the world can a judge recommend the utilization of sex workers as a viable solution?
After he was found guilty, the defendant asks for mercy:
He asked the court to be lenient because he was a first offender and had a wife and two children to look after.
Oh yeah, let's not forget that wife and family he has to take care of.  I am actually surprised that he didn't ask for a waiver of the fine so that he could have enough money to pay sex workers in the future.
Instead of being leniant, the court offers a long-term solution.
After telling the court that he traditionally wedded his wife, the court advised him to take a second wife.

"The law allows you to have more than one wife," said Magistrate Mazibuko.

The accused also agreed with the court. "After what happened, I will now consider taking a second wife," he said.
You  just can't make this stuff up!  I understand that polygamy is a recognized part of Swazi culture.  But we are in a whole new realm when multiple wives are being recommended by the judicial system as a way to solve issues of varying libido in a marital relationship.
At the article's conclusion, we find that Mr. Dlamini is in fact sentenced for his crimes:
He was sentenced to two years in prison or a fine of E2 000.
In case you are not up on your currency conversion, this gentleman was given the choice of either spending two years in jail or paying a fine of $220.  That is the typical judgment against drunk driving which brings up a whole other set of issues.  If you are rich, you can break the law and easily afford to pay the fine without even flinching.  However if you are poor (and remember that 70% of the country lives on less than $2/day), you either give up over a month's salary, or you sit in jail for a long long time.
I will let you draw your own conclusions and judgments, but this article was so over the top, I just had to share it.