For our fifth field trip we ventured North on I-65 about thirty miles to Kentucky Down Under (KDU).  I have lived in BG for almost a decade and have really failed to take advantage of the tourist attractions nearby.  Today was different though.  The folks at KDU wanted to give something back to educators, so they made the month of June free for all educators.  Since the ticket price is usually pretty hefty we opted to take advantage.  It ended up just being Mikayla and I, but we had a great time (until the rain came).  The weather was overcast so there was a breeze every now and then, but still hot.  We were sweating before we even began. 
We began the day at an exhibit where you have a cup of nectar and Lorikeets fly around, land on you and eat the nectar.  Mikayla was loving the birds, but wasn't too crazy about them landing on her.  She laughed when they landed on me and flew around her though.  I didn't get very many good shots because I was holding/watching her and shooing off the birds.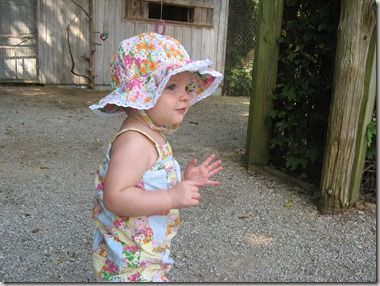 Loving some birds!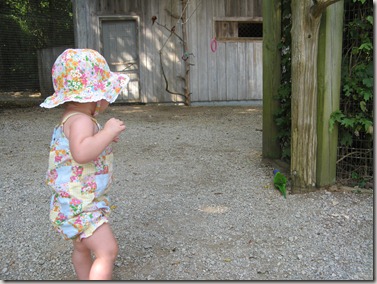 Maybe if I run fast enough I can catch it…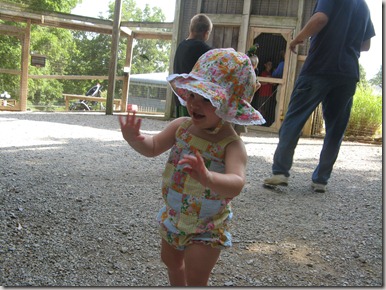 Well I didn't catch it, but it was still cute!
The next two stops on the trail were not nearly as exciting for Mikayla.  The first was a talk about different sheep and what they use sheep for in Australia.  She was really upset with the fact that she couldn't pet the sheep, but got over it pretty fast when they let her pet the dog.  She also thought it was fun to watch people milk the cow they had.  Then we watched a brief minute of the dogs trying to herd the cattle.  If she were a little older this would have been more fun.  As it was though, she was just sitting in her stroller in the heat.  Not a big fan!
Our next stop was the cave tour.  I wasn't sure how Mikayla would do because it was a 30-40 minute tour.  I brought along our Ergo carrier and started with Mikayla on my back.  This lasted for about fifteen minutes while we waited for our tour guide to show up, but then she was done.  So we switched to the front carry, which lasted a total of five minutes.  She really just wanted to get down and walk, but not the best thing when you are in a cave!  So I opted to carry her through the rest of the tour.  She did pretty good after that.  The steps were a little tricky, but everyone around was very helpful and looked out for us!  Here are some shots from in the cave.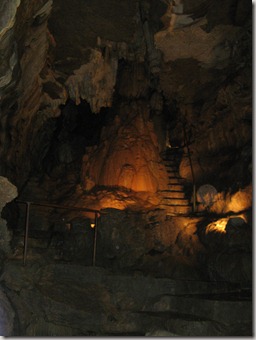 Shot from inside the cave.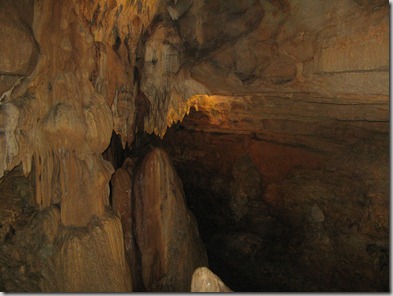 It really was a beautiful cave.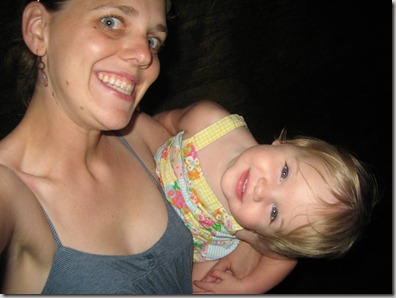 My silly baby and me!
Our final stop was the Outback Walkabout.  This was the stop I was most excited about because I knew Mikayla would love watching the kangaroos hop around.  Our tour guide was very nervous, I think it might have been his first few days on the job.  Plus we were the only ones on the tour.  Despite all this, we still enjoyed visiting with the animals.  Mikayla was unsure at first about touching the animals, but after she saw me do it she loved it.  She even got upset when I picked her up to take her to the next one.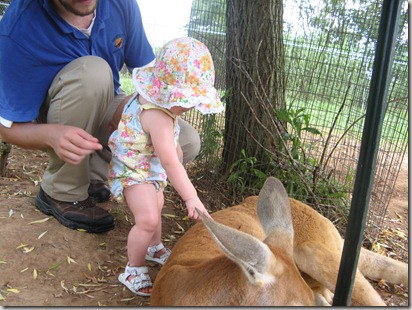 Touching the kangaroo for the first time.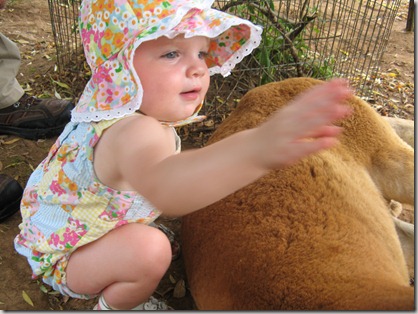 She really wanted to touch his head/ears, but she wasn't allowed to.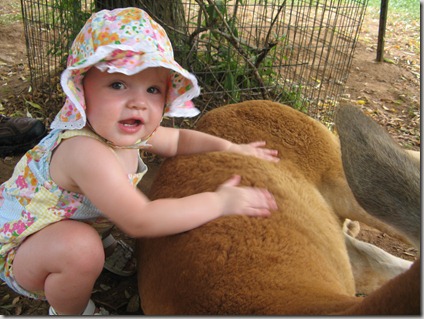 Look mom, he loves me!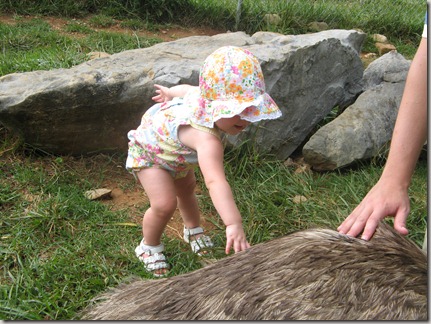 The emu wasn't nearly as fun as the kangaroo.
While we were on the Walkabout the clouds started rolling in and the thunder began so we headed to the car.  We got to see pretty much everything so I wasn't overly concerned, plus we were both tired and sweaty!  Mikayla fell asleep as soon as we hit the road and took a three hour nap.  Then she went to bed thirty minutes early.  I think she wore herself out!  Here are a few more snapshots from our adventures.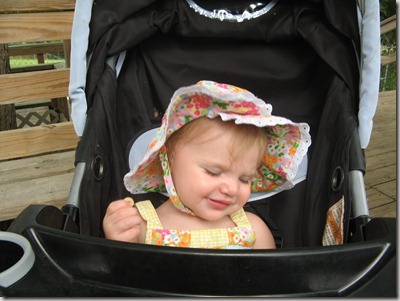 Snagging a snack between tours.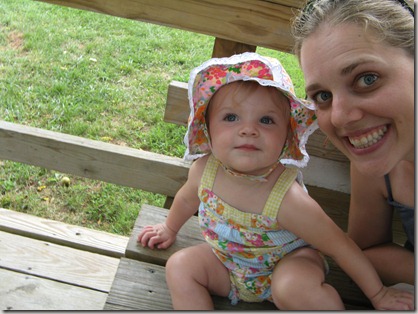 A little more successful, but still not great.
If you missed our other field trips you can check them out here, here, here and here.  I am still trying to decide where our next field trip will be, so stay tuned.
Tags: field trips, Mikayla, summer