Our boy continues to grow and change each day.  I forget just how quickly they can change at this young age!  He is still eating every two hours or so (which is a little exhausting for this momma, but so worth it)!  Here are his three month stats:
Weight – 6kg / 13.2lbs
Length – 24 inches
Head circumference – 16 inches
According to our calculations that puts him in the 50th percentile in weight and length, which is much lower than we thought he would be.  He just seems so big to us, and the Swazis.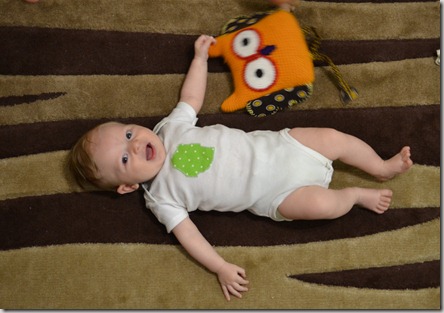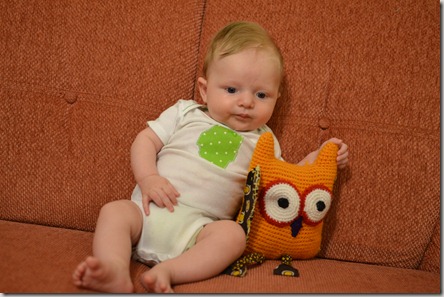 His sleeping patterns are still very inconsistent.  At the beginning of the month I thought we had made a turn toward sleeping through the night.  He had a week where he would go to bed around 7 or 8 and sleep until 4 or 5, nurse and go back to sleep for an hour or so.  However, that was short lived.  After a week of this he returned to his old habits of waking to nurse every two hours or so.  he will now go to bed around 7 or 8 and sleep until 1 or 2, occasionally early, and from then on he wakes up every two hours.  We had stopped swaddling him for a short period, but have started that again and he seems to sleep a little sounder at night, even if it isn't for a long period.  Nap times are hit or miss.  He will regularly wake up for 1-2 hours and then take a short 30-45 minute nap.  He usually takes two longer (1-2 hours) naps mid-morning and sometimes in the afternoon and then will dose off again for a  short period around 4 or 5.  I am trying to make sure he is in the crib for most of these naps, but we are still so inconsistent with nap time schedules.  Not sure how we were able to get Mikayla on such a good schedule!  On a typical day he will take at least one of those naps in a baby carrier.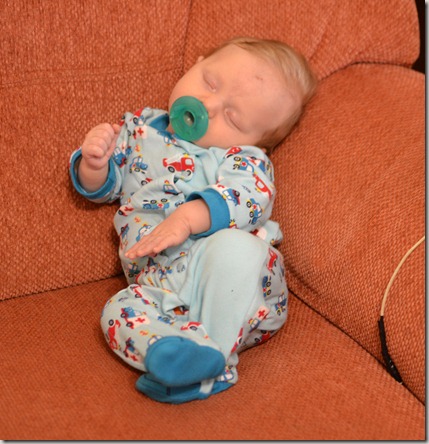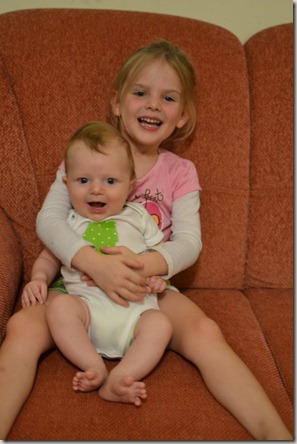 Speaking of, I use my baby carrier so much more with Max than I ever did with Mikayla.  Max is "worn" everyday!  It makes it easier to get things done with a 4 year old around, plus when we are traveling to the hostel for various meetings and groups it is easier to carry him in one than it is to carry him in my arms.  He sleeps great in the baby carriers too, and will fall asleep almost instantly when you put him in one.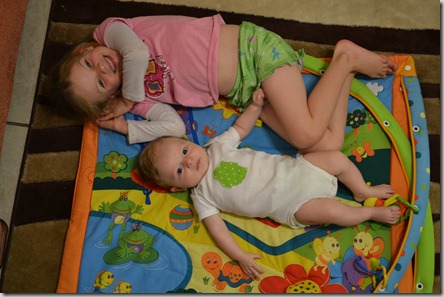 The hostel kids and staff are still enamored by Max and will often fight over who gets to hold him.  If he is awake when we are there, I hardly see him!  That is until he cries and they bring him back to nurse, their default response for when a baby cries.  As soon as I calm him down, often without nursing, he is whisked off again!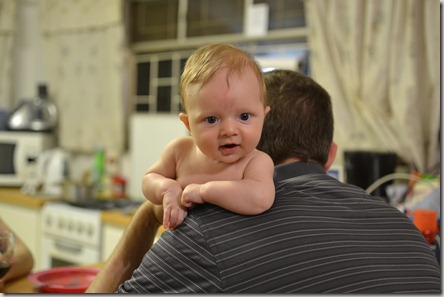 Max's personality continues to grow and change each day.  He is smiling and cooing more and crying less (most days)!  He is even making a real effort to laugh.  It is really funny to watch him try to make noises.  It is almost like he tries to make them in the back of his throat, but can't quite get the sound to make its way out.  But when he gets going you could keep him talking for several minutes.  Mikayla absolutely adores this and is constantly trying to engage him in "talking".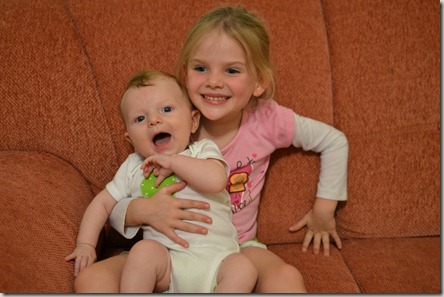 Max is still not a big fan of tummy time, although if you can catch him in a good mood he will tolerate it for a few minutes.  While on his back he is able to wiggle around, so much so that if you walk away for a minute he will be in a different position entirely when you return!  He is still rolling from belly to back, but not vice versa yet.  Although he is now rocking himself up on his side, so I don't think it will be long now.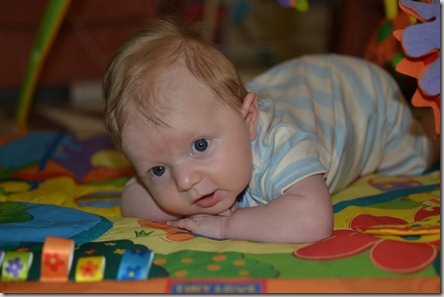 Like Mikayla at his age, Max has a full head of hair but it is a little awkward looking.  He has a small cowlick on the crown of his head which makes it look like he is wearing a toupee!  Ben is ready to shave it off, but I am not there yet.  It does look a little silly,  but he is a baby after all!  Speaking of appearance, he is still sporting his three birth marks.  The forehead one is fading some, but still there and the other two are still very red.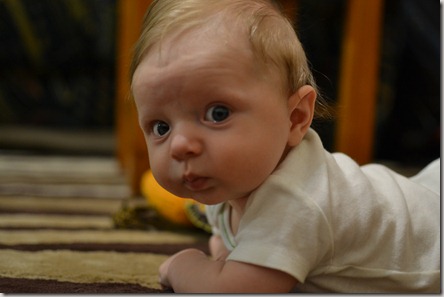 Max really enjoys pushing up and standing on his legs when you are holding him.  And again, just like Mikayla, he loves to face out and check out what is going on.  I think he is going to be social like his big sister! Ben also got smart and started rolling a towel to place in his tub to make bath time a little easier!  Genius!!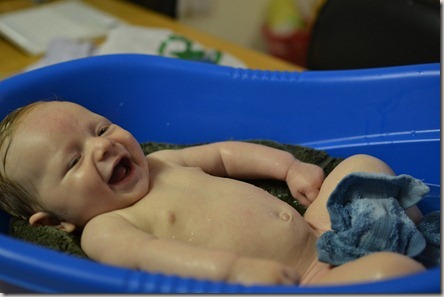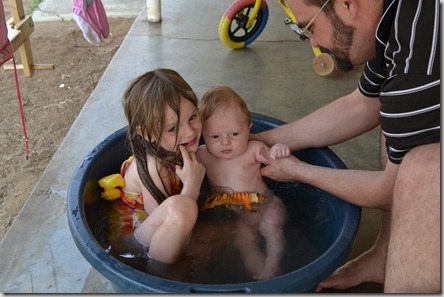 First "swim"!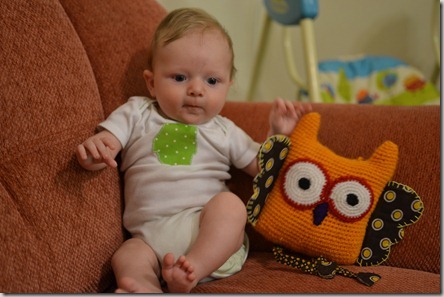 I have been meaning to write a post about how we chose Maxwell Simo for our son's name, but haven't gotten around to it.  Thankfully my amazing husband wrote one so I will just share his with you.  You can find it here.
Tags: Growing up, Max