A bagel obsession began this past week.  It started by making Finding Joy in My Kitchen's Pumpkin spice bagels.  They were super easy to make and very yummy.  When those disappeared in a day (we shared some with the sisters of course) I started pondering what I would try next.  The next day I was bored while Mikayla was napping and decided to try adapting her recipe into an apple cinnamon raisin bagel.  I swapped the pumpkin (which I used butternut squash in the first place) for some homemade apple sauce, added some raisins and about a teaspoon each of cinnamon and nutmeg for the spices.  I kept everything else the same.  They were also delicious.  Ben wanted some onion and garlic bagels, so while my apple ones were rising I used this recipe to make a plain bagel.  Before cooking I brushed with a watered egg white and then sprinkled on a mixture of onion flakes, garlic powder and coarse salt.  They were a little heavy on the garlic, but delicious!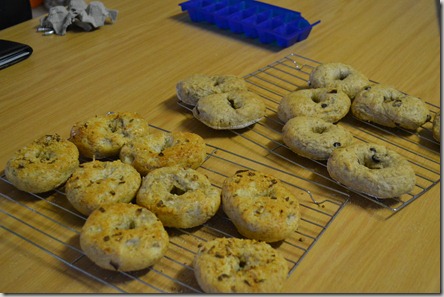 Garlic and onion are on the left and apple, cinnamon and raisin on the right
We also tried our hand at making hummus with our tahini paste we found over Christmas.  Delicious as well (even if it was a little lumpy since we don't have a food process or blender)!  In the states we always bought hummus because it was relatively cheap and convenient.  However, making your own is just as cheap and probably healthier.  Plus, you can season it to your own personal taste buds…an added bonus!  We also made a maple bacon biscuit that was pretty tasty.  This one was definitely not healthy, but we love all things bacon!
It rained a lot on Monday so Mikayla got a chance to play in the rain.  Please excuse her lack of clothes, this was a spur of the moment decision.  In hind sight, we would have put her in her bathing suit, but oh well!  I think she loved it!  Turns out the rain was actually the remnants of a tropical cyclone (hurricane) in the Indian Ocean, no wonder it rained so much.  It ended up being cloudy and raining off and on for the rest of the week.  Not complaining though because it kept the temperatures lower.  I actually slept covered up with the comforter most nights!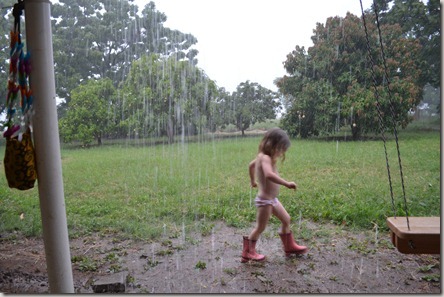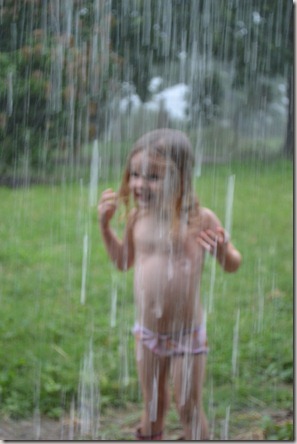 We also spotted a couple of new birds this week.  Anyone care to venture a guess as to what they are?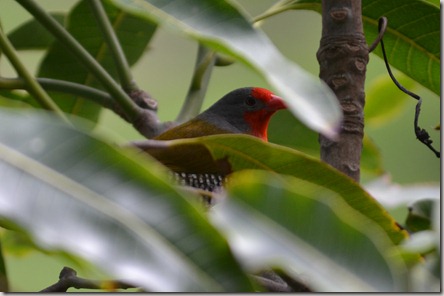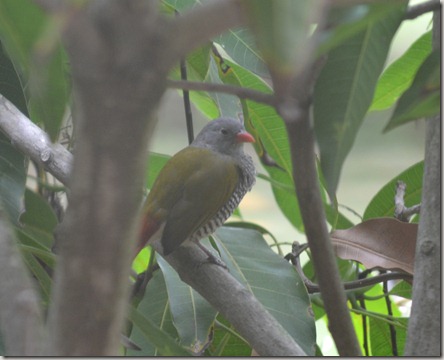 This is the same bird as the first one, just a little cloudier of a picture and of course one is a male and the other a female.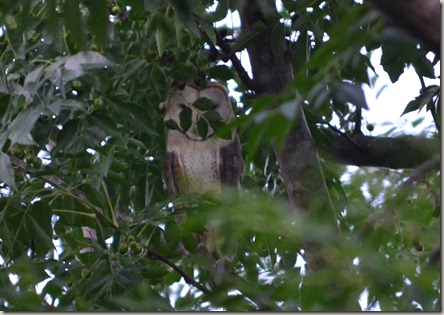 This guy was extremely hard to capture, but if you look closely you will be able to tell what it is.
On Saturday we headed to Matsapha (where the airport is in Swaziland) to pick up a long term volunteer, Janet.  By a strange twist of fate, she also happens to be from Kentucky.  We met her briefly during our first trip to Swaziland. She will mostly be helping at healthcare with the pharmacy, but I am sure you will be hearing a lot about her in the upcoming weeks.  Next week, Sister Diane's nephew, Joe, will be arriving.  He will be here for at least a year, but probably two years.  I hear he is a bit of a computer guy, so now Ben will have someone to talk tech stuff with and I won't have to fake acting interested.  I don't really care that he set up a Linux box with an IMAP/SMTP server running over an 802.11g wireless network with WDS capabilities.
Sometimes daddy likes to play blocks with Mikayla, but we decided that he is not very good at sharing.  Every time Mikayla would take a block or knock his tower over he would get very upset.  Especially when he was trying to make the largest possible tower using all her blocks.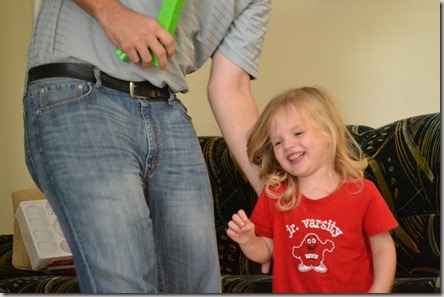 Pushing Mikayla out of the way while building his tower.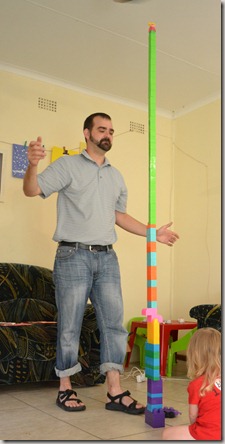 Look at that tower!  And don't you just love the "capris" Ben is sporting?  In his defense, it was muddy and he was trying to stay clean.
Mikayla sported a couple of new dresses this week.  Some were hand-me-downs from very special friends and others were remakes of items in the house.  Check her out: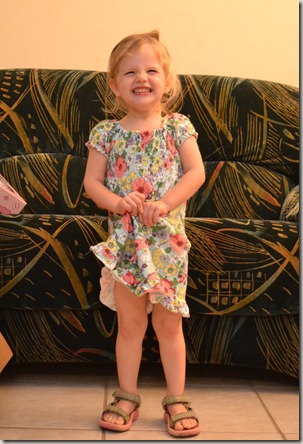 This dress belonged to a very sweet young lady who lost her battle with cancer in March.  Her mother, Jennifer, gave us this dress just before we were leaving.  We spent a lot of time talking about sweet Bella on the day that Mikayla wore this dress.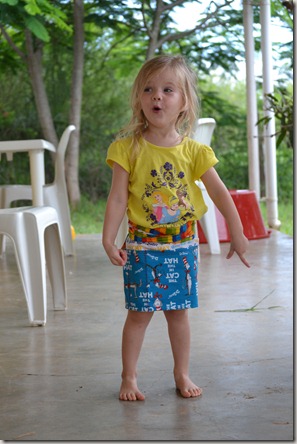 One morning I asked Ben to put a skirt on Mikayla and this is what he came up with.  He was in the kitchen and was feeling lazy so he just grabbed the Dr. Seuss apron that my friend Lara gave me for my birthday last year.  I think it works pretty good as a skirt too!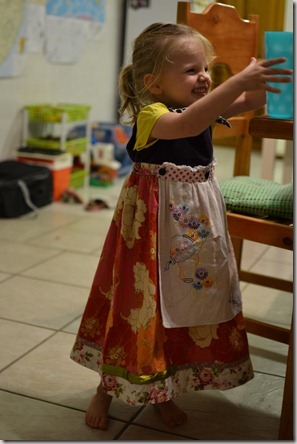 Last, but certainly not least, is this fabulous hand crafted dress courtesy of Dacia and Callie!  It is actually the dress I used as a model for Mikayla's two year old birthday dress (also made by Dacia). Callie has outgrown it, so in an awesome care package from our friends (thanks again everyone) Dacia sent it on to Mikayla.  It is still big, but we love it anyway!  Lots of years of wearing for this dress!
To end the week – who doesn't love a spoon covered in chocolate icing to lick clean?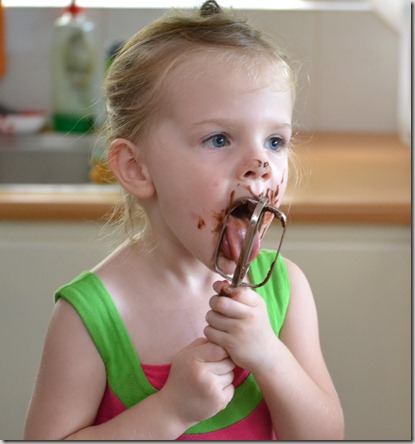 Tags: Cooking, friends, recipes, weeks happenings