Things have been busy since January.  We have had visits from my cousin Jana (and her friend Olivia) as well as from my Parents.  I went to Ethiopia (and Dubai) for a week in March.  And, Beth is progressing in her pregnancy.  But, let's face it, if you want regular updates on the Kickerts in Swaziland, you have to go to my wife's blog for that.
Now, back to that pregnancy.  The good news is that both mother and baby are doing great.  Everything looks normal and the pregnancy is low-risk.  That means we will probably be delivering in Swaziland if everything continues as plans.  All of that is great, and what really matters.  However, we have encountered some frustration with Baby Kickert #2. 
If you will remember, at the 16 week ultrasound, we saw "definitive" evidence that our new baby was a boy.  Here is the picture looking up between the legs.  That is definitely a penis.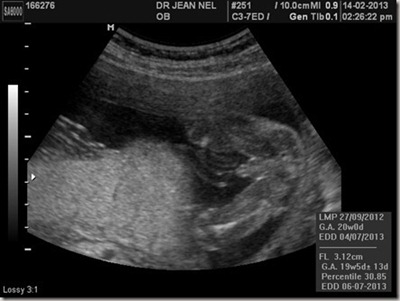 So with that knowledge, we set out to decide on boy's names.  It was a much more difficult process for us, but we ended up settling on a name everyone liked: Maxwell (Max) Simo Kickert.  It was great to have that decision out of the way…  that is until our 28 week ultrasound.
Here is the picture from that one (sorry it is not as clear because it is a scan of a printed image):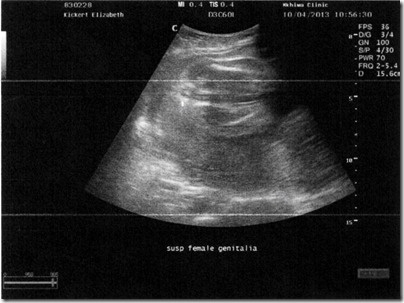 For this picture you are again looking up between the legs from underneath, but the baby is facing the opposite direction.  Also, instead of seeing a penis, you are seeing the three lines that indicate a vagina.  Even more telling, is that when the doctor continued the scan up the body, there was no evidence at all of a scrotum.
Both doctors said that if their respective ultrasound stood on their own, there would be no question of what the gender was.  The problem is that each ultrasounds points in a different direction.
It is possible that the first image is actual of the umbilical cord, but when I look back at it, it certainly looks like a penis to me.  It is also possible that in the second image, the baby was positioned in such a way as to hide the penis. 
So where are we?  We really don't know.  It could go either way.  We are leaning towards girl since that is what was indicated in the most recent scan, but we won't know for sure until we have another ultra sound (some time in the next month).
Again, the most important information is that the baby is healthy.  But this ambiguity is frustrating.  We have gone back to the drawing board on names to try and come up with one of the female variety.  It has been just as tough as deciding on a boy's name, but we think we at least have an idea for a first name.
We will keep you posted.  In the meantime, you are more than welcome to submit your own guesses based on your ability to read the ultrasounds above.