Anyone who has driven the Ezulwini corridor between Mbabane and Manzini in Swaziland has certainly taken note of the large precipice known as Execution Rock.  The mountain is officially known as Nyonyane Peak, but goes by the more sinister moniker because it is said criminals were historically forced off the edge at spear-point for their crimes.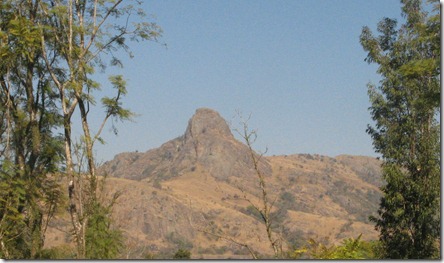 [View of Execution Rock from one of our previous trips]
Since coming to Swaziland, we have wanted to hike to the top, but it is one of those things where it is so close by, you never get around to doing.  Plus, there is notoriously little information on the internet about.  I knew the mountain was in the Mlilwane Game Reserve, and had heard there was a short route and a long route, but beyond that reports vary widely.  Some sites say the hike takes 6 hours and others say you can get there in 15 minutes.  But, we enjoy spending time at Mlilwane, so we decided to make a day out of it; if we got to the top of Execution Rock that would be great.  If not, then we would enjoy a relaxing game drive and other short hikes.
Mlilwane is a relatively small park, but most of it is criss-crossed with trails.  There are no large predators, but you are absolutely guaranteed to see zebra, warthogs, wildebeests and a wide variety of antelope variations.  Plus it is super cheap.  The entrance price for all three of us was supposed to be E75 (less than $10 USD), but we have a Wild Card that lets us get in free.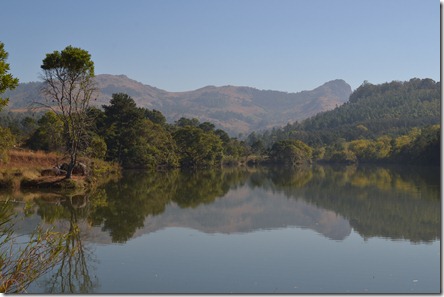 [Execution Rock is the summit on the right, note the hippos on the island to the left.]
At the main gate I asked about hiking trails to Execution Rock and was told I would have to go to the Rest Camp to get a hiking map.  That is only a 3.5km drive, so it was no big deal.  Basically you leave a E10 deposit, let them know where you are going, and you get a wrinkled laminated map.  Here is a photo of the map to give you an idea of the hiking trails inside Mlilwane: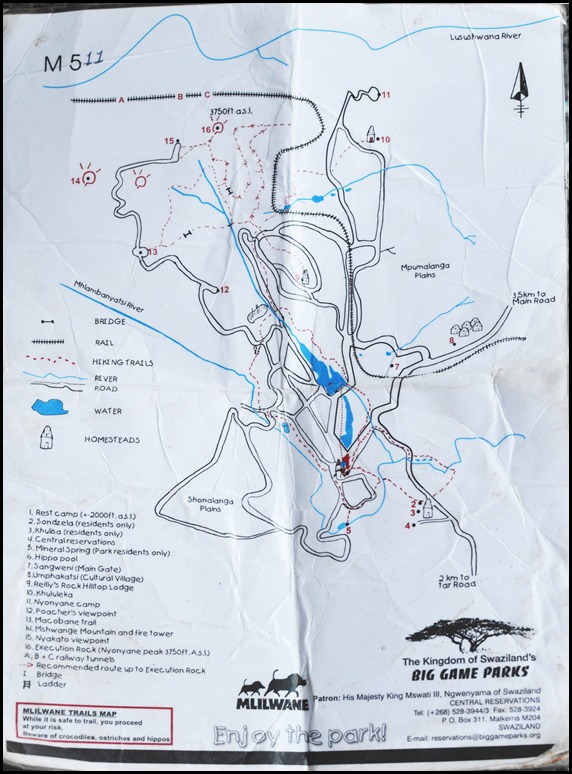 As you can see, there are a couple longer routes that are possible which start around the Reilly's Rock area.  We ran into a few other hikers while we were out and they said they were told it would take them 2.5 hours to get to the summit of Execution Rock from the lodge at Reilly's Rock, but they were able to do it in about an hour and a half (they looked to be in pretty good hiking shape).  You can also see there is a much shorter route that starts most of the way up the mountain.  That is the route we decided to take.  We were told at the Rest Camp that that route takes about 15 minutes to hike.  It's probably possible to do it in 15 minutes but It took us closer to 40 minutes with our toddler in tow.
The drive from the rest camp to the Nyakato viewpoint took us about 20 minutes to drive.  We had a large 4×4 truck and did the drive in the dry season so it really wasn't a problem.  If you're used to driving on mountain dirt roads, I think you could probably do it in any vehicle, but if it rained, I could see how it could get pretty sketchy.
At the Nyakato viewpoint there is a nice picnic table and the views really are incredible.  We could hear the drums from Mantenga Cultural Village and the views of Sheba's Breasts (neighboring mountain) and down into the mid-veld were pretty incredible.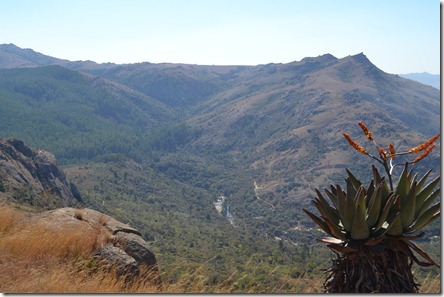 [Aloe plants in the foreground, Sheba's Breast in the background.]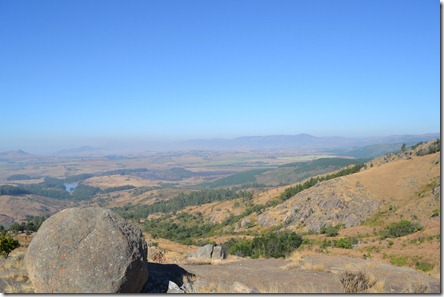 The trail was well maintained and easy to follow.  I would guess the walk was less than a mile from the trailhead to the summit (1.2 km).  Most it was gradual slopes although the last stretch required careful foot placement and an occasional hand on the ground.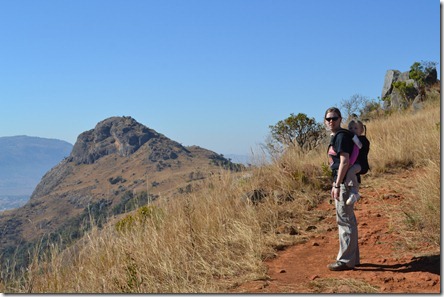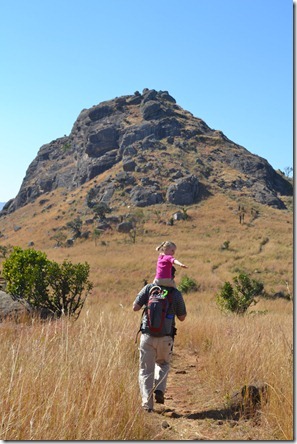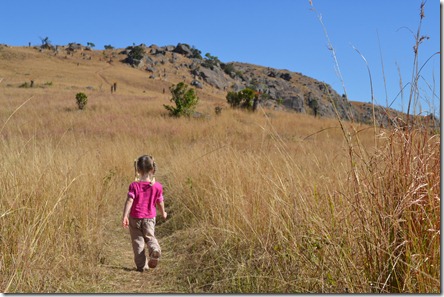 [Mikayla handled the trail just fine.]
The day we hiked Execution Rock, there were several wildfires burning so the valley was pretty smokey.  However, the views from the top were still incredible.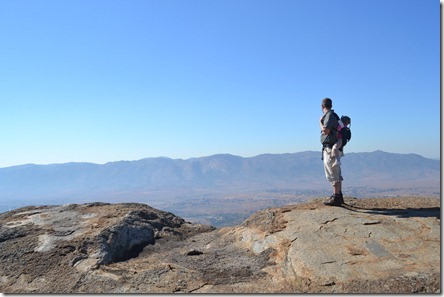 [Summit!]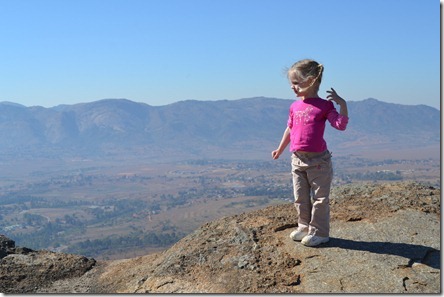 [Don't worry, she really isn't as close to the edge as it looks.]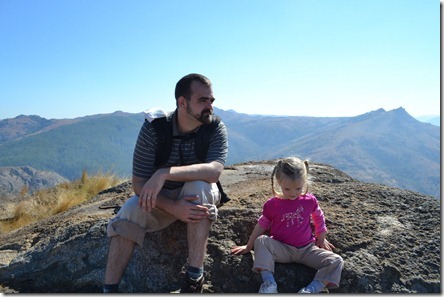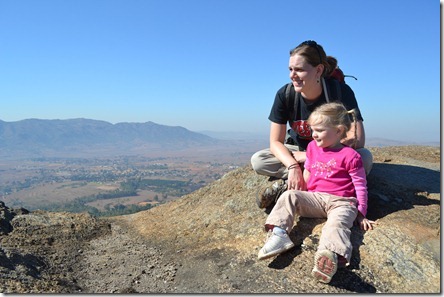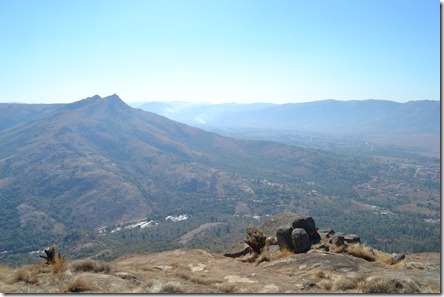 [Looking up the valley towards Mbabane]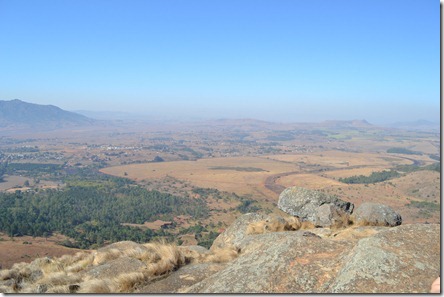 [Down the valley towards Manzini]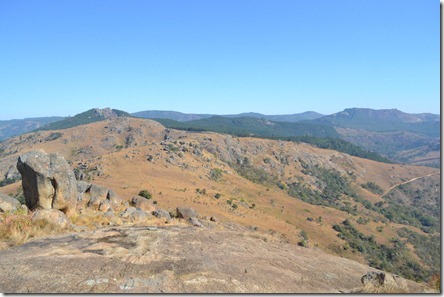 [Looking back towards the trailhead]
From the time we left the truck to the time we returned to it, it was probably about 2.5 hours.  The hike up Execution Rock was certainly not an epic journey, but it was a great day hike that you can complete start to finish in 3-4 hours including the drive up to the trailhead.
After the hike, we spent about an hour driving through the park before grabbing lunch at the rest camp.  We were there during the hottest part of the day, but we were still able to see quite a few animals: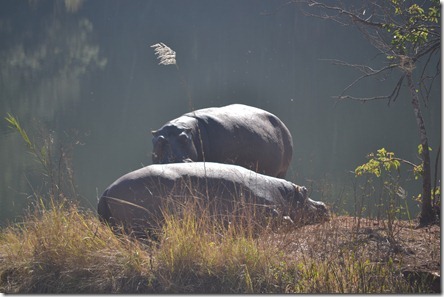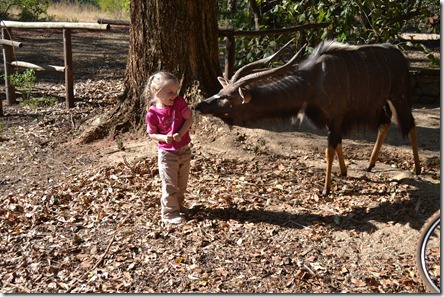 [The animals at the Rest Camp are pretty accustomed to people]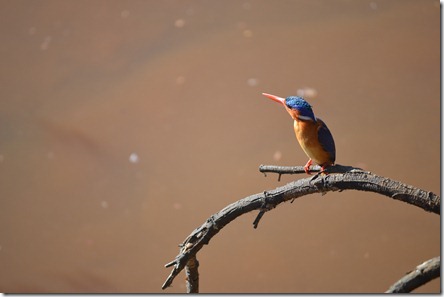 [Mlilwane is known for its birdlife like this kingfisher.]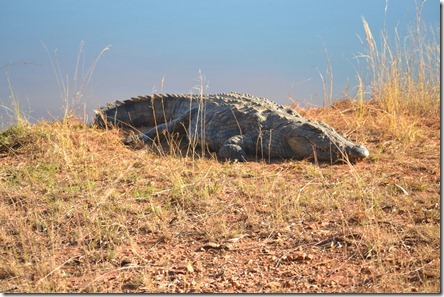 [This is actually the first crocodile we have seen in Africa and it was HUGE.]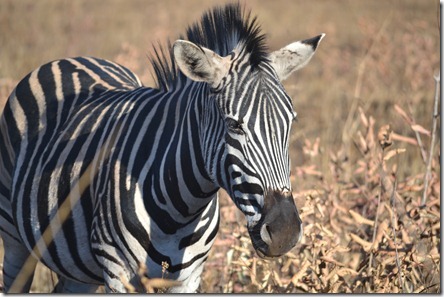 Overall, it was an absolutely great day.  We ended it by eating at a new restaurant called Marimba's in Manzini that specializes in African cuisine and it was excellent.  We were even able to throw in some grocery shopping and a stop at the airport and still make it home 12 hours after we left.
I am so glad we finally got that hike in.  Now we just need to make time for a few of the waterfall hikes in the highveld that we have been talking about doing.