Beth and I have always had a special place in our heart for Thai dishes.  In fact, for our rehearsal dinner we rented out the entire Thai restaurant and offered a buffet.  However it has only been recently that we have ventured into cooking our own Thai food.
Below is a recipe for one of our favorite dishes called Pad Kee Mao or more popularly "Drunken Noodles."  This is an amalgamation of several recipes I found online and then adjusted  to taste.  Most of the ingredients can be picked up at grocery stores with a decent international section, or at your local Asian market.
Pad Kee Mao (Thai Drunken Noodles)
[Prep time: 30min // Cooking time: 30min]
Ingredients:
12 oz package medium rice sticks (rice noodles about the width of fettuccini)
1 pound chicken
Oil (Peanut, Canola, Vegetable, etc)
Black Pepper
Fresh Basil
Fresh Cilantro
   Stir fry components (adjust to meet your preferences)
4-5 Baby Corn stalks cut into 1" pieces
2 Medium carrots sliced into thin discs
1 small can bamboo shoots (drained)
1 small can sliced water chestnuts(drained)
2-3 stalks of celery sliced
1 bell pepper (red, yellow, green or a combination) sliced into 2" strips
½ medium onion sliced into thin strips
4-5 Shitake mushrooms
2 Tbs minced garlic (4-5 cloves)
    For sauce:
1-2 Tbsp Thai Chili Paste (2 Tbsp is noticeably hot, but still tame by Thai standards)
2 Tbsp Oyster Sauce
1 Tbsp Soy Sauce
3 Tbsp Golden Mountain Sauce (a very flavorful soy sauce)
2 Tbsp Fish Sauce
1 Tbsp Lime Juice (1/2 fresh lime juiced)
1 Tbsp Brown Sugar
1/2 cup water
2 Tbsp Rice Wine (use Cooking Sherry if unavailable)
1 Tbsp Black Bean Sauce (or substitute Hoisin Sauce)
Preparation
Begin by chopping all your stir fry vegetables as this can be quite time consuming.  If you are using dried shitake mushrooms you will need to soak them in hot water for up to 30 minutes so plan accordingly.
Cut up 1 pound of chicken (thin strips are better than cubes) and cook in large skillet with 1-2 Tbsp oil and black pepper to taste.  [Note: We have found it easiest to cook large pieces of chicken until they are about half done, then remove them from the heat to cut into smaller pieces, and then finishing cooking in the skillet.  It is less messy and easier to have consistent pieces.]
While you are cooking your chicken, begin preparing your rice noodles.  You will break the noodles into 3-4" pieces, place them in a large bowl and cover with boiling water.  Let these sit 30 minutes stirring occasionally.
Prepare your sauce by mixing all of the ingredients together in a large bowl and set aside.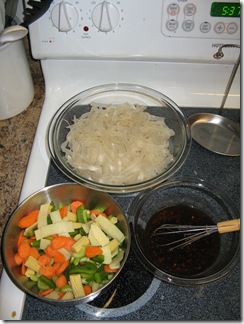 [Vegetables, Brown Sauce and Noodles]
Once your chicken is cooked, drain it and set aside.
Add 1-2 Tbsp of oil to a large skilled (use the same one you used for the chicken if you like) and bring up to medium-high heat.  Add your stir-fry vegetables and sauté.  If the vegetables begin to dry out, add a small amount of water.  Cover between stirrings.  Vegetables are done when they are firm but no longer crisp.
Add the chicken back in, along with previously prepared sauce and cook a 1-2 minutes on medium heat.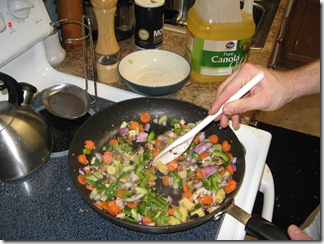 Reduce heat to medium-low and add in the noodles (drained).  If your skillet is not large enough, you may need to transfer things to a large pot at this point.  Add 3-4 chopped basil leaves.  Cook until noodles begin to absorb the sauce and the basil leaves begin to wilt.
Remove from heat and serve on plates garnished with cilantro.
Enjoy!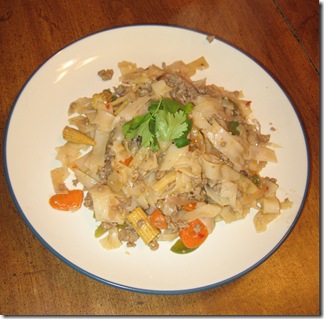 [Final Dish]