I recently made a post about the current situation in Swaziland.  This was largely prompted by some of press the country had received related to financial issues and some protests.  Some of these stories came straight from the Swazi press.  So, before you start giving too much credence to what you read, let me give you a snap shot at what the press in Swaziland is really like.
Here is a picture of the front page of one of the two news papers in Swaziland from a few weeks ago: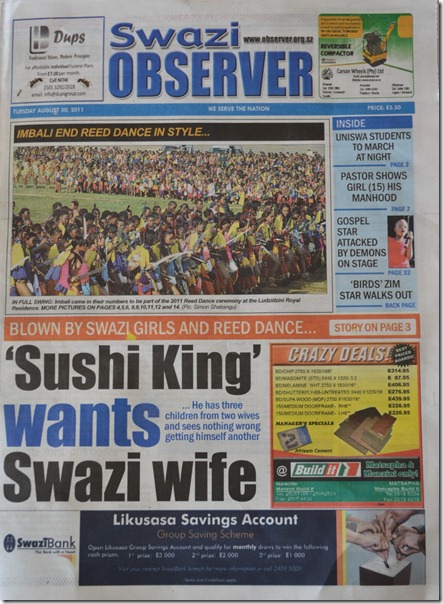 There are so many things I could comment on, I just don't know where to start.
Let's begin with the main picture.  I don't know if you can make it out of not, but that is a photo of hundreds of "maidens" all lined up to dance topless before the king at the annual reed dance.  And before you say that at least it is a classy photo, let me assure you that the inside stories leave absolutely nothing to the imagination.
Even better than the main picture is the main headline at the bottom of the page.  Just FYI, the "Sushi King" is a shady character from South Africa who is known for his expensive taste and his tendency to pour Champaign over beautiful models and eat sushi off their bare bodies.  The subheading to the story reminds readers that polygamy is still alive and well in Southern Africa.
But, the real kicker of course is the main story introduction (in the red bard).  If you missed it the first time, go back and read it all together.  Now please tell me how in the world that made it past a copy editor.
And then just for good measures, we have front page stories about a pastor showing a girl his "manhood" and the account of a gospel star (who is only 9-years old by the way) who is attacked by demons on stage.
Only in Swaziland my friends… and this is this a taste… there are crazy media accounts like this all the time.  I will try to post some more in the future.