I am not a very sentimental person and rarely get caught up in traditions or holidays, but today represents a significant day of remembrance as we honor Dr. Martin Luther King Jr.  This man was so influential in my life and my understanding of the world that we named our daughter after him (Mikayla Lillian Kickert).  It was an honor this morning to march along side my brothers and sisters and to have my daughter join us.  Here is a picture of me and little MLK from this morning and a shot from the march: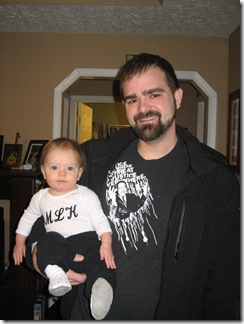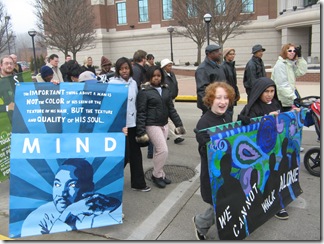 If you haven't already done it, please take the time to listen to MLK's prophetic "I have a dream" speech.  I still cannot listen to it without tearing up.  I have included it below for your convenience
Finally, I want to share with you a prayer that I wrote several years ago to commemorate the day.  The following is an invocation written in 2008 for the annual MLK remembrance service in Bowling Green.  It is inspired by the UMC Book of Worship prayer for such occasion.
God of all creation, we stand together today and acknowledge your presence among us as we seek to be your people united in love.  As we worship today, we pray that you grant us a glimpse of your Kingdom. A kingdom where everything is made new and all nations walk together in the light of your Glory.
We thank you for your servant Martin Luther King Jr. who lived out the principles of your kingdom, and through his prophetic voice, offered the vision of what could be.  May we be challenged by his courage, emboldened by his passion, and inspired by his actions.  But heavenly father, may we not rest of the laurels of his godly work, but instead strive together to bring deeper love and greater unity as we all seek to live out your calling on our lives.  May we, even today, experience the same divine discontent that spurred Dr. King to be a voice for justice and an advocate for love.
Today we remember the conviction of Dr. King, who said:
Freedom is never voluntarily given by the oppressor; it must be demanded by the oppressed.
Therefore, let us pray for courage and determination for those who are oppressed.  And at the same time, may we not be blind to the oppression we bring, nor deaf to the voices crying against it.
Today we remember Dr. King's words that
True peace is not the absence of tension, but the presence of justice.
Therefore let us pray not only for relief from tensions and conflicts, but for a just and compassionate world.  May those who work for peace in our world be those crying loudest for justice and may we find peace not in the comforts of life, but in the tension that comes from standing in the gap.
Today we remember Dr. King's insight that:
Injustice anywhere is a threat to justice everywhere, because we are caught in an inescapable network of mutuality tied in a single garment of destiny,
Therefore, let us pray that we may see nothing in isolation, but instead find ourselves unified in love and perfected in peace.  May we rejoice with those rejoicing, and mourn with those morning.  And today father, may we join the struggles of those bothers and sisters throughout the world who are striving for peace and justice.
Today we remember Dr King's lament that:
The contemporary church is often a weak, ineffectual voice with an uncertain sound, often the arch-supporter of the status quo. 
Therefore, let us pray that neither those gathered here today nor any congregation of Christ's people may be silent in the face of wrong, but that we may be disturbers of the status quo when it comes into conflict with God's Kingdom.
Finally, we remember Dr. King's prophetic words that:
The dark clouds of racial prejudice will soon pass away and the deep fog of misunderstanding will be lifted from our fear drenched communities and in some not too distant tomorrow the radiant stars of love and brotherhood will shine over our great nation with all their scintillating beauty.
Therefore, in faith, let us contend against evil and make no peace with oppression so that we join in the legacy of Dr. Martin King Jr. and work together to fulfill the vision he shared of your Kingdom come. 
Lord, while we still hear jangling discords in our nations, may we be beautiful notes in the symphony of brotherhood. 
In the name of Jesus, the Prince of Peace we pray, Amen.