My last blog post was from my kindle and was typed in the middle of night stuck in Newark airport due to a missed flight.  At the time, things were still pretty up in the air, so I figured you would probably like to hear the rest of the story.  If you follow my twitter feed (@kickert) you will least know we arrived in Africa, but getting there was interesting.
After missing our connection in Newark, I ended up staying up the entire night so Beth and Mikayla could catch some sleep while I watched our stuff.  We basically took over a corner of the ticketing area and made a fort:
Part of the reason we stayed at the airport instead of getting a hotel (besides the fact Continental refused to help us cover the costs) is because our bags were at some indeterminate location: they came in on Continental, were supposed to go to Lufthansa on the connection, our rebooking was for an earlier Lufthansa flight, but it was being handled by United.  With so many transitions we wanted to be able to physically see our bags to make sure they made it with us.  That meant bugging the baggage agents every hour until they found our stuff. (On a side note, I have never encountered customer service employees as rude and unconcerned as the people at Continental in Newark.  I could write a whole blog on that!)
Eventually they found our bags (actually I saw them rolling past on a luggage cart and recognized them and made them give them to me) so we  could recheck in on our next flight.  It was nice to have our luggage with us because we could get extra clothes out and have the peace of mind that it would probably make it on the plane with us, but it also meant we had to move it all around by ourselves on undersized baggage carts.
I felt pretty confident in my packing ability…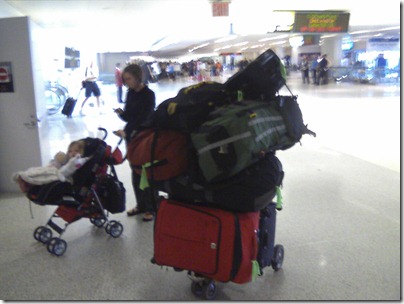 …until we found the cart couldn't fit through the elevator door.
Once we changed terminals to check in, we found that Lufthansa did not open their ticketing counters until much later in the day.  We were hoping to check in early so we could get rid of our luggage and then go back into the secure area, but no such luck.  We were fortunate enough for Mikayla to find another small child to play with.  That helped pass the time.  I was also able to grab a 45 minute nap which was nice.
Eventually Lufthansa opened their counter and things seemed to be going well until they tried to charge us for our "extra" baggage.  If you will remember, I was already upset because Lufthansa had promised 2 free bags, but Continental had charged us b/c they were the airline of origination.  I flatly refused.  Fortunately, we had a great agent who was very patient and realized the fee was a mistake due to the rebooking.  In fact, she even went out of her way to let us pick our seats.  We got seats right behind first class so we had extra legroom and no seats in front of us for Mikayla to kick.  She even promised to try her best to improve our tickets on our final leg.
20 hours after we landed in Newark we were finally on our way to Germany (we were supposed to have a 2 hour layover).  We were able to talk with the sisters and they were able to extend their stay in South Africa.  I was also able to get in touch with my friend Ben in Frankfurt and he was able to rearrange his schedule to still meet us at the airport.  Overall the flight across the Atlantic was uneventful and even a bit relaxing after what we had been through so far.
Upon landing, I decided to go ahead and get our boarding passes for our next flight before we left customs.  That is when things started getting interesting again.  It turns out that when we were rebooked, they had us listed as standby, but neither the rebooking agent, nor the Lufthansa agent mentioned that to us.  Not only were we on standby, but the flight itself was overbooked.  Frustrated, we walked away to try and figure out what we should do.  I couldn't imagine the sisters being excited about staying two days extra.
After thinking about things for a bit, I decided to go back to the Lufthansa agents to figure out my chances of getting off standby and actually on the flight.  At least we could try and plan better if we knew how things might turn out.  The agent told us that we had a slightly better than 50% chance of getting a seat.  We took what we could get and headed through customs into Germany.  Mikayla played at a playground in the terminal and we grabbed a quick snack to wait for Ben.
It was very cool to be able to catch up with him when he finally did arrive.  It had been 13 years since I was in Germany visiting him, and almost 7 years since Beth was in the country visiting.  At this point we were all in great need of a shower.  Ben took us back to his apartment where we were able to freshen up and grab a bite of real food.  Mikayla took a quick nap, but eventually we had to wake her up.  She was so tired she fell asleep in the shower.
We then went back to Ben's parents' house.  It was pretty cool to revisit the place I stayed for 3 weeks back when I was 16.  Lots of memories came back that I had forgotten.  The Dornhoffs are incredible hosts.  We had coffee and cake and Ben's mother played with Mikayla for quite a while.
We headed back to the airport to try and figure things out.  We said bye to Ben and head through customs.  We were told our best bet to get off standby was to be at the gate as early as possible, so we made sure we were there over 3 hours before the flight left.  While that was probably good advice, it didn't do us any good because the flight actually left an hour after we thought and the agents didn't get to the gate until an hour and half before that.
By far, this was the most stressful part of the trip because we were in limbo not knowing if we were going to make it out of the country that day.  You could say that the worst part was knowing that it could be worse.  This was the only point of our entire journey where I was so anxious I needed to take a Xanax.
Once we did talk to an agent, we were told that even though we were first on standby, things were still not looking good.  They didn't tell us our chances, but by the way they were talking to us, I have a feeling we were below the 50% mark.  The one comforting thing was knowing that if we did have to stay another night, at least we had people in the area who could pick us up and give us a place to stay.
Once people started loading the plane, we got more stressed out.  Beth and I talked about our options and decided that if we could only get one ticket we all would stay, but if we could get two tickets only, Beth and Mikayla would fly out and I would follow the next day with the rest of our stuff and rent a car.  We divided our stuff up so that could work if it needed to.
With about 10 minutes left before the plane was scheduled to leave the gate, the agents began looking to see if any of the standbyers could get on.  With great relief, I heard my name called.  We all got three tickets, but they were all separate.  I told them there was no way Mikayla could be in a seat apart from us.  They took our tickets and tried to work something out.  The best they could do was get us all in the same section of the plane and hope something could work out.  We took what we could and board the plane with all our stuff.
I am sure the people who had already boarded were not excited to see us come on dragging all our stuff and obviously holding up their departure.  The flight attendants were able to get Mikayala and Beth together, but I was a couple seats over in a different row.  That was fine by me… at least we were on the plane.  But then, something really cool happened.  The guy in the row with Beth and Mikayla heard what was happening and about our journey so far and offered to switch me seats.  He traded a window seat for a center seat in the center section for an 11 hour flight.  Let me tell you… that guy should be nominated for sainthood!  It made the whole flight much easier with all three of us next to each other.
This last leg of our journey was great.  The service was astounding, the food was great, and it was long enough that all of us could get some decent rest.
We landed in Jo-burg and made it through customs without any problem.  Our luggage all arrived and the only problem we had was some of Beth's mouthwash leaked.  We met the sisters at the gate and were ready to leave.
The whole way to the vehicle you could tell the sisters were a bit nervous.  They had been in South Africa long enough that they had their own luggage with them and they were afraid our stuff wouldn't all fit.  There was even talk of one of them catching a bus back to Swaziland.  On any other trip, this would have been a concern to me, but after our journey so far, this seemed like a minor issue.  I had actually already thought about this possible problem and thus had packed parachute cord so we could strap things to the roof.  We packed what we could into the SUV and strapped one bag to the top.  No worries at all.
The drive back to St. Phillips took about 6 hours, but was thankfully relatively uneventful.  Sister Barbara was pulled over twice for speeding, but was able to sweet talk her way out of a ticket both times.  The border crossing was easy and they didn't even want to check our bags.  Excellent!
We grabbed pizza on the way home, got back to the mission, unloaded our stuff and were finally able to breath easy.
From the time we left Bowling Green to the time we arrived at St. Phillips, our entire journey took 72 hours.  By contrast, if our original flight had landed 15 minutes sooner, we would have only had a 48 hour trip, and if we had flown South African Air, it would have been a 35 hour trip.
I must say, in all of this, Mikayla was a super star.  This trip could have been much worse if our toddler had chosen to be a brat, but the worst she got was the last 15 minutes of our flight when she decided to kick the seat of the guy in front of her.  If that is all we have to deal with, I am super happy.
Our first night we headed to bed early.  Mikayla got 15 hours of sleep and Beth and I got 12.  Normally I would think jetlag would be an issue, but our trip was so crazy our bodies had no idea what time it was.
I will end this post with a touching note.  Once we had everything unpacked and all our stuff figured out, I asked Mikayla where we were.  I was hoping she would say "Africa" or "Swaziland" to show she understood that we had just made the transition we had been talking about, but what she said was even more significant. 
"Mikayla, where are we?" I asked.
"Home" she said…. and she was right.  After a month of being displaced and in crazy transition, we have found our new home… and things are great here.