Today is Mikayla's 18 month birthday.  A lot has happened in the last year and a half and I could not imagine how we could have been more blessed by her.  Having this mile marker come, coupled with the fact that she is learning her letters and I have been going through my old Hebrew textbooks has me reflecting on the origins of her name.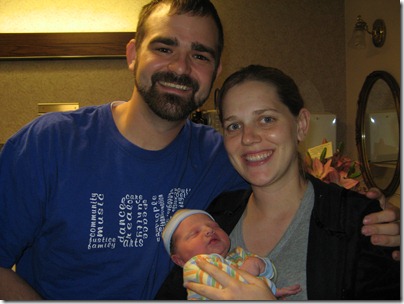 [Mikayla Lillian Kickert about to leave the hospital]
Many of you know the subtle nuances we chose to include when naming our daughter Mikayla Lillian Kickert.  First, Lillian is her great grand-mother's name – a woman my wife greatly respected (Obviously the "Kickert" part came from me and my family).  We chose Mikayla for several reasons.  Most importantly we want to pay tribute to one of my heroes – Martin Luther King Jr. – by  giving her the initials MLK.  (I wonder how many white girls are named after King?).  But the name Mikayla also carries with it special meaning.
Traditionally "Mikayla" is said to mean "a godly woman."  It is a feminine derivative of the name Michael and has its origins in the Hebrew language: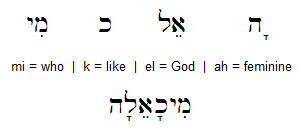 We just happened to be thinking through baby names while I was taking several Hebrew courses at seminary and because of that I was able to recognize there is actually another way to translate "Mikayla."  It can also mean "who is like these":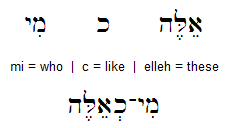 Considering her initials point to a civil rights hero and her other names come from highly regarded family members, this reading carries extra weight.  Whether we use it to refer to a godly woman or to a person who is like "these" influential people, we are projecting a sincere desire that our daughter grow up as a person whom others would want to emulate.
Words are powerful and names (usually) last a lifetime.  18 months ago we were intentional about choosing our daughter's name so that she would always be reminded of godly people who are willing and able to change the world.
Happy half-birthday Mikayla.